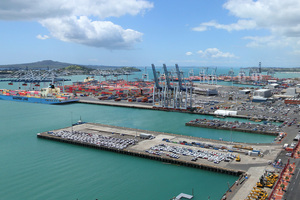 Grassroots publicity campaigns are being mobilised by backers on both sides of Auckland's port dispute in a battle for public sympathy.
New websites have been designed, public relations strategists enlisted, and videos produced and disseminated - with many of the resulting, conflicting messages purporting to tell the true human story of the dispute.
The clash between port workers and their employer, the Ports of Auckland, has run on since late last year.
Now, with negotiations for a new collective agreement at an impasse, the port company says the workers will be sacked and replaced by contractors.
The two sides have been behind campaigns to press their case, publicly disagreeing over how much the workers have been paid, how productive they have been and what the two parties wanted from their talks.
On television and in the Herald, union representatives and company spokesmen have pushed their stories in strong but circumspect words.
But on Facebook and blogs, sparring supporters have called one another "liars" and worse, while producing "leaked" information and colluding to tilt online polls in their favour with rounds of mass voting.
The port company has hired public relations firm SweeneyVesty, thought to be offering guidance as it fields a large number of media calls.
SweeneyVesty was also involved with the port company during its opposition to a proposal for a waterfront stadium for the Rugby World Cup.
The Ports side launched a website called "Need for change" and took out large advertisements in the Herald.
Sympathetic bloggers uploaded videos of non-union staff from inside the port and were privy to corporate information.
The Maritime Union, meanwhile, has had backing from the wider labour movement, with Council of Trade Unions president Helen Kelly shifting to Auckland in support.
Ms Kelly said in January she wanted to rally the public against the company's plans.
The workers' advocates made letter drops, produced a video telling the stories of workers' families and have used Facebook to co-ordinate actions.
Public relations guru Cedric Allan said the key stakeholder in the PR battle had been the council.
Neither side knew whether the council would stay out of the dispute so they needed to fight for public backing which could influence councillors.
"It's a battle for hearts and minds because both sides believe hearts and minds might help along the way."
But the union's position had been a tough sell considering many people already worked weekends and lived with hard working conditions, he said.
Graeme Sterne, a senior lecturer in communication and marketing at the Manukau Institute of Technology, said a senior public relations consultant could make $250 to $350 an hour during a significant case like the port dispute.
"These are high stakes."
Ports of Auckland chairman Richard Pearson said the only effective way to communicate what was happening, given the circumstances, was through a public relations team. "This has been an issue of huge public interest."
Maritime Union president Garry Parsloe said the costs of his side's campaign would have been "minimal".
WHARF WARS
* Publicity campaigns by both sides of the port dispute are trying to win the public's support.
* They include new websites, calling in public relations strategists, producing videos and advertising on television and in newspapers.
* The dispute has been going on since last year.
* Ports of Auckland has said it will sack the workers and replace them with contractors.