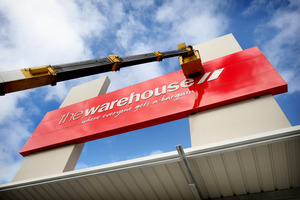 "Where everyone gets a bargain" was once The Warehouse's advertising catchcry. But a survey ranks the country's largest listed retailer well behind many of its competitors when it comes to delivering value.
Market Research firm Big Picture surveyed 300 New Zealand consumers last week, asking them to rate 44 well-known brands in terms of their value.
Supermarket operator Pak'nSave came out on top, closely followed by online auction site Trade Me and DIY chains Bunnings and Mitre 10.
The Warehouse came in at No 33.
Big Picture said while 67 per cent of respondents thought The Warehouse was good value, its low ranking resulted from 32 per cent saying it was cheap but not good value.
However, another 32 per cent said the retailer was offering better value than it had in the past.
Warehouse CEO Mark Powell did not comment on the results of the survey yesterday.
Morningstar analyst Nachi Moghe said shoppers' perceptions of The Warehouse were helping drive the success of Briscoe Group, which operates Briscoes, Rebel Sport and Living & Giving stores and posted a record full-year profit last week. Briscoes was ranked 11 in the survey, behind Pams and Countdown.
But The Warehouse wasn't the only listed business given a low ranking for value, Restaurant Brands' KFC ranking 40th behind competitors McDonald's (39), Burger King (31), Domino's Pizza (30) and Subway (10).
Jon Bird of brand strategy company Idea Works, said the market disruption caused by the global financial crisis had led to heavy discounting by stores, but retailers also needed to enhance shoppers' in-store experience.
Value was more than just a good price - it was a combination of benefits, said Bird, who revealed the survey's findings at the Westfield Retail Brain Food for Breakfast seminar in Auckland yesterday.
Announcing The Warehouse's full-year result in September, chairman Graham Evans spoke candidly of how the retailer had "lost its way". Under-investment had made the Red Sheds "tired and unattractive" and the company hadn't met customers' demands.
The retailer is carrying out a $430 million capital investment programme to return The Warehouse to its former glory through improving the external and internal appearance of its stores, property development and new sites.
Craigs Investment Partners analyst Chris Byrne said the Big Picture survey results were in line with the financial results The Warehouse had posted over the past couple of years.
Its last full-year result reported an 8.9 per cent fall in adjusted group net profit to $76 million, while revenue dropped 0.3 per cent to $1.67 billion. Its shares, which closed up 3c at $2.74 last night, were worth more than $6 in 2007.
Last week's interim result showed signs of an improvement in same-store sales, but the firm still expects adjusted net profit to fall as low as $62 million this year.
Asked if the spending programme would change consumers' perceptions of The Warehouse, Byrne said: "I imagine it will change the perception, whether it's enough is the question.'
Rating the brands
Value for money rating, online survey
HIGHEST to LOWEST
Pak'nSave 95%
Trade Me 93%
Bunnings 92%
Mitre 10 91%
Maggi 87%
Signature Range 86%
Skype 85%
Pam's 85%
Countdown 85%
Subway 85%
Briscoes 84%
Nescafe 83%
Farmers 82%
Toyota 82%
Home Brand 81%
JB Hi-Fi 81%
Continental 80%
Dick Smith 80%
Air NZ 80%
Noel Leeming 79%
Westfield shopping centres 78%
New World 77%
Postie 76%
Glassons 76%
Mazda 76%
KMart 75%
PlaceMakers 75%
Bakers Delight 75%
Whitcoulls 73%
Domino's Pizza 72%
Burger King 71%
Harvey Norman 68%
The Warehouse 67%
EziBuy 67%
StrawberryNet 65%
Jay Jays 64%
Nosh 64%
Apple 64%
McDonald's 63%
KFC 60%
Adidas 59%
Nike 56%
Jetstar 50%
The $2 Shop 43%