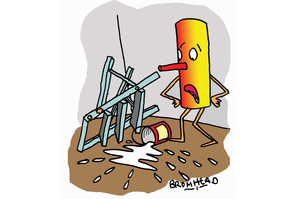 When the caregiver decided it was time to refurbish our apartment, I loftily assured her that as a DIY expert, I could take care of any decorating required.
However she appeared to doubt my ability, mumbling the usual stuff about age, ladders and needing a steady hand.
I pointed out that she wasn't co-habiting with a greenhorn who'd never wielded a paintbrush, but someone who'd learned the art of decorating by long experience and now only did things by the book.
That's why, in the best tradesman manner, I carefully tack down protective sheeting and use masking tape around window frames and architraves.
"We skilled DIY decorators," I smugly explained, "are not going to start sloshing paint around using one's foot to slide a sheet of newspaper along the floor to protect the carpet.
"Painstaking preparation is the success to a perfect job," I reassured her as I drove off to my local supplier to purchase the necessary materials.
I didn't bother mentioning past decorating disasters, such as the house I once painted that developed a kind of leprosy because of my failure to undercoat the weatherboards correctly, or my newly hung wallpaper that suddenly curled and fell off the wall during a dinner party. The only real lesson I've absorbed about decorating is to treat paint as a substance requiring the sort of cautionary respect normally given to something highly contagious - because it spreads everywhere without warning once the can is opened.
When the morning arrived to start work, I sent the caregiver away for the day, assuring her all would be completed by afternoon.
"I don't want to come home to a dog's breakfast," she muttered tersely as she left.
Being a DIY professional, I completed the job early, without a single mishap to blemish my labour.
After carefully cleaning up the materials and protective coverings, I stood back to admire my efforts and accidentally knocked over a small stepladder. Unfortunately, half a litre of white acrylic paint I'd carelessly left resting on the ladder's top rung immediately toppled over, springing the lid before crashing to the floor.
Suddenly, the lounge carpet, sofa and television set looked as if they'd become part of an abstract action painting by the late Jackson Pollock.
Attempting to clean up an appalling mess, I've estimated I've got about two hours to recover my status as that highly trained DYC expert, before the caregiver reappears.