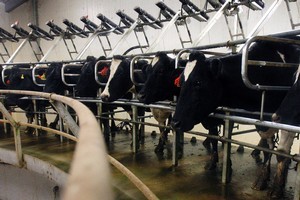 International dairy prices continue to drop in Fonterra's online auction but are still at "pretty good levels" says BNZ economist Doug Steel.
The average price for a basket of products in the latest online auction dropped 0.9 per cent having fallen by 3 per cent and 0.9 per cent respectively in the previous two events.
However, results within the past six months had been within a 5 per cent range, Steel said.
"While it's auction-to-auction pushing a bit lower, I think we'd still classify it in stabilisation mode," he said.
"It wouldn't want to go too much further before it breaks that recent range, and may suggest it pushes on a bit further lower, but until that happens we'll stick with the view that dairy prices internationally are still fairly stable.
"And if Europe can sort itself out and the globe continue to grow at a reasonable pace that demand should keep prices supported through 2012."
Dairy products account for about 30 per cent of all merchandise exports.
Agricultural market analyst NZX Agrifax said milk production in December was up 14.7 per cent and 8.4 per cent respectively on the same month in the previous two years.
Milk production last season had been adversely affected by a summer drought, whereas this summer had been one of the wettest on record and during the 2011 calendar year milk production was 10.8 per cent higher than during 2010, it said.
Farmer co-operative Fonterra's forecast payout for the 2011/12 season is $6.90-$7.
NZX Agrifax dairy analyst Susan Kilsby in January said dairy production for the season was expected to be up by between 7 and 10 per cent on the previous year.
A $7 payout by Fonterra based on a 7 per cent increase in milk production could be worth about $10.1 billion.
The quantity of product sold in the latest online auction totalled 24,692 tonnes with an average price of US$3576 a tonne - compared to US$4826 and US$3259 at about the same time in the past two years respectively.