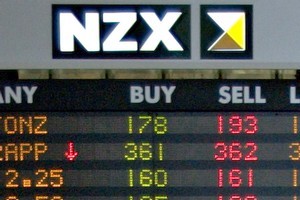 Earnings were mixed for most of the listed public companies which announced their results in the latest reporting season, but many were cautiously optimistic about their prospects for the year ahead, say brokers First NZ Capital.
Of the 26 reporting companies that First NZ covered, eight came in above the brokers' expectations, nine were in line, while nine were below, First NZ said in a review of the season.
A number of companies reported a worsening in global market conditions, particularly in Europe, with their earnings affected by a weaker global economy and higher fuel prices.
Firms also noted a softening in earnings reflecting exposure to a weaker Australian economy, which had come under additional pressure from a strong Australian dollar.
Companies generally reported a backdrop of a relatively muted New Zealand recovery with a number of firms noting the challenging domestic economic conditions and low credit growth environment, with some still focusing on cost savings.
"A broad-based recovery in the building sector remains elusive for now, although there are initial signs that the Christchurch rebuild is gaining some momentum, albeit at a slower pace than anticipated," First NZ said.
"The recent pick-up in activity in the New Zealand rural sector, together with the Canterbury rebuild, is expected to underpin an improvement in growth rates over the year ahead."
The main domestic risk appeared to reflect residual uncertainty regarding the pace and timing of the Canterbury earthquake rebuild.
On balance, the "outlook" comments from management were cautiously positive, albeit set against the current subdued domestic activity profile, First NZ said.
Of the 26 companies covered in First NZ's review, analysts upgraded estimates for eight companies, downgraded eight, while 10 were left broadly unchanged.
The best results, going on the individual shares' price reaction to their results, came from NZX, Hellaby Holdings, Diligent Board Member Services, Tourism Holdings and Opus International Consultants.
The largest negative reactions come from Guinness Peat Group, Mainfreight and Air New Zealand.
"While a number of firms have exceeded expectations, the backdrop over the past six months of a muted domestic growth profile, heightened global growth concerns, together with delays in the Canterbury rebuild have provided a number of companies with a challenging earnings environment," First NZ said.
Companies remained conscious of the potential negative impact from a weakening in global growth, continued softness in the Australian building sector, the potential for further delays to the rebuilding in Canterbury, together with headwinds to exports from an elevated New Zealand dollar.
Matt Goodson, portfolio manager at BT Funds Management, agreed the season had been a mixed bag, but said "potentially this could be as bad as it gets".
Campbell Stuart, head of equities at UBS, said the mood of the market remained tentative.
"Most people, having had three years of torrid stuff, are not prepared to paint a picture that is anything more than cautious, and I think that is pretty sensible," Stuart said. "Everyone is cautious these days."
The NZ equity market performance over the reporting season has been broadly flat, with the NZX 50 index recording a slight decline.
This was contrary to a more robust performance over the same period of global equity markets, which have rallied on the back of a rise in risk appetite as global growth momentum has improved and eurozone risks have receded since the European Central Bank's undertaking of another big liquidity injection.
Adding it up
Latest earnings season:
* 8 firms posted results above brokers' expectations.
* 9 were in line with expectations.
* 9 were below expectations.
Source: First NZ Capital

- APNZ