Newmarket property dates back to the 1920s, writes Colin Taylor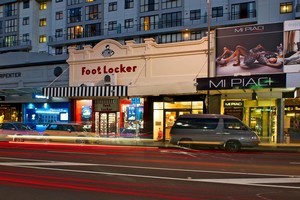 A Newmarket retail property occupied and subsequently owned by one family since the 1930s will go under the hammer on March 28 as part of Bayleys latest Total Property auction.
The 301sq m building, on a 212sq m freehold site at 220-222 Broadway, contains two tenanted shops producing net annual rental income of $260,650.
"The property has been in the ownership of the same family interests since 1962, however the family's trust is being wound up and we have clear instructions to sell," says Stuart Bode, Bayleys Auckland's senior broker who is marketing the property with colleagues Henry Thompson and Ed Donald.
"It's not often a standalone trophy investment property on its own freehold title like this comes up for sale on Broadway," says Bode. "Most of the offerings tend to be unit titled, with body corporate obligations, or they are on leasehold land."
The property, which has a rateable valuation of $4.1 million, is on Broadway's eastern side between the Khyber Pass Rd and Remuera Rd intersections and forms part of the area's traditional retailing precinct.
The larger of the two shops encompasses a ground floor retail area of 102sq m and a 55sq m mezzanine. It is occupied by Foot Locker which has been a tenant of this part of the building since its refurbishment in 2003.
Thompson says Foot Locker, at 220 Broadway, is a leading international athletic footwear and apparel retailer with global sales of about US$6 billion ($7.1 billion), with
close to 2000 stores in 21 countries, and more than 90 in Australasia.
It renewed its lease for two years last June and has two further two-year rights of renewal.
The other shop, at 222 Broadway, comprises 63sq m of ground floor retail and a 57sq m mezzanine area. This has been occupied for the past two years by another shoe retailer, Eurobrands, which specialises in middle-range women's shoes.
The building dates back to the 1920s, when Broadway largely contained industrial properties, and is thought to have been first occupied by a timber or joinery business.
The street started to take on more of a retail face in the 1930s and the late Brian Kitchener was one of the early shop owners to lease space there, establishing a shoe business.
"It was a bold move because those were the Depression years and times were pretty tough," says his son Rick.
"But Dad targeted a niche in the market, focusing on affordable family footwear and selling everything from school shoes to slippers and Roman sandals. The business seemed to pick up momentum through the war years and Kitchener Shoes became something of an institution on Broadway."
Rick Kitchener's early childhood memories of Broadway were of a busy thoroughfare with two lanes of traffic and trams running up the middle "but nothing like it is today".
Brewers' wagons also carried kegs of beer to and from the Newmarket brewery to neighbouring pubs.
"Like most business people of those times, Dad was cautious but by the early 1960s he was confident enough in the future of Newmarket and the shop to buy the building he worked in, which also included an adjoining shop. A family trust was established to purchase the property and Dad carried on running his shop until he retired at the age of 65."
That was close to 30 years ago and with none of the children involved in the business, the former Kitchener Shoes shop at 220 Broadway was leased initially to another shoe retailer, Footloose, and then to current tenant Foot Locker. The smaller neighbouring shop has had a variety of tenancies over the years including a pharmacy, delicatessen, the Bake and Grill Cafe - and footwear retailers over the past seven years.
Like many other buildings on that side of Broadway, which has the railway line running behind it, the property was located on what was originally railways leasehold land.
But the opportunity arose in 2003 to buy the lessor's interest from L&Y Holdings, which developed the large apartment complex behind the property. The Kitchener family trust paid $1.8 million to secure this and create a conventional freehold title.
"At around the same time, we also embarked on a complete overhaul of the building between tenancy changes which involved extensive re-strengthening to bring it up to modern seismic requirements," says Rick Kitchener. "We gutted the interior and put in a lot of steel joists, pillars and cross-ties which also enabled us to add a mezzanine floor to both tenancies. This has added further value to the building."
Bode says another attractive feature of the property for investors is that its rentals are set at market rates and therefore offer genuine future rental growth potential.