Young construction firm records rapid growth even in tough times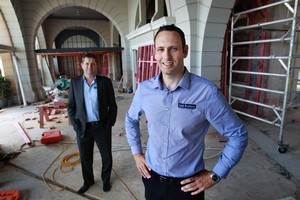 For someone raised a good Christian boy, Sam Rofe sure has an impressive handle on the occult, particularly when he turns his mind to the Christchurch rebuilding effort.
"If you were to bring someone back from the dead right now in New Zealand, it would be James Fletcher, the original, who sat with [Prime Minister] Peter Fraser [during World War II as head of defence construction]," says Rofe, business development director at construction firm Cook Brothers. "He didn't [muck] around with all the local bureaucrats; he went straight to the boss," he says of his role model.
Rofe also cites Fletcher's work rebuilding Napier in 1931: "He drew the plans [for the rebuild] on the back of an envelope [and] he got the banks going within a week - can you imagine that?
"We need someone [like Fletcher] to arise in Christchurch, someone who's not afraid to piss some people off, someone who's got the direct authority to act."
Rofe is an entertaining interview subject because he is not short of an opinion. His strong views are peppered with references to the company ethos of "ownership" and "responsibility", not "blame" and "denial".
So when he is late for the interview, he doesn't "blame" the traffic (which was heinous in Auckland that morning). Instead, Rofe takes "ownership" by explaining that he slept in. I like the cut of his jib, mostly because it seems genuine, rather than a marketing spiel.
Like Fletcher, Rofe and his co-founders - brothers Dave and Ben Bulling - are from Dunedin, the city that also spawned building behemoth Fulton Hogan (is it the cold that generates a facility for building excellence down south?).
But they are not part of the famed Dunedin business establishment the media sometimes labels "the Tartan mafia". However, the trio do have aspirations of becoming establishment players, an ambition they are on the way to fulfilling.
Cook Brothers Construction was formed in 2005 and for the past three years has made the Deloitte Fast 50 list, despite operating in what disinterested observers describe as the most difficult trading conditions for builders in a generation.
Over that period it recorded 330 per cent growth in revenue and, managing director Dave Bulling reports, is on target to book around $50 million this financial year. It now boasts more than 100 employees and offices in Dunedin, Queenstown, Auckland and Christchurch (a Tauranga office closed after Auckland opened).
Projects include new builds and refurbishments, and have ranged from individual houses to apartments, shopping malls, commercial buildings, schools and other government projects.
Getting a handle on why Cook succeeds where others suffer is a little difficult, though Bulling and Rofe cite the company ethos and rigorous hiring standards.
Certainly, a young, ambitious and capable company can quickly take market share off less agile but larger competitors. But to make the Deloitte Fast 50 - which records growth over three years - for three years running is a terrific achievement and proof that this lot are no flash in the pan.
Maybe the new-age jibber-jabber about ownership, responsibility and accountability really does make a difference.
What about the Cook Brothers name, given it was founded by the Bullings? Dave Bulling explains that the money to establish Cook was made on their investment in a notorious student pub, the Captain Cook (I played the Cook back in 1986 and it was such a dive, it made Auckland's Gluepot look like the the Copacabana).
The Bullings turned this loss-making operation into a profitable one that funded a building company which is now a player, albeit small, on the national scene.
Bulling would rather I didn't mention the company's pub beginnings. Now that Cook Brothers is getting big, he worries that it might reflect badly on the company. He's wrong.
Dave was only 21 years old (today he's 29) and Ben was 24 (now 32) when they bought the Cook and started a business dynasty. It was an early example of the precocious entrepreneurial streak that has brought them to the point of a stunning achievement: perhaps, in time, matching the Fletchers and the Fulton Hogans.
Bulling's reticence also reflects his personality: he is intense and focused but understandably lacks awareness of the media process. Bulling's job is to manage a fast-growing company, whereas Rofe, as business development director, needs to gladhand with panache and style.
But underlying all his excellent words is the ambition to make Cook Brothers - the Bullings and the Rofes - as memorable a family name as Fletcher. Time will tell.