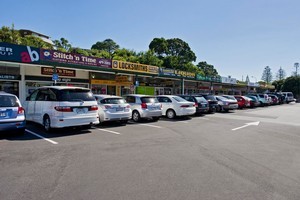 Nine fully tenanted shops on two freehold titles in Browns Bay, on Auckland's North Shore, are on the market for the first time in 30 years and will be sold as one parcel.
Shops 1-8 in Clyde Court, 94 Clyde Rd, are at the entranceway to the busy Browns Bay shopping precinct and will be auctioned on behalf of a family trust through Colliers International on March 15.
The nine adjoining units house separate retail tenancies, and return a total of $166,840 net per annum with the potential for income growth.
Deborah Dowling of Colliers International, who is marketing the properties with colleague Euan Stratton, says the opportunity for a savvy investor to spread capital risk across nine small retail properties will be a big drawcard on auction day.
"The diversified cash flow that comes from owning a strip of retail shops in this popular centre is an opportunity that does not come up very often. We think this property will appeal to people looking for long-term, passive holdings," she says.
The total retail floor area of about 437sq m is spread across 944sq m of land within the popular Clyde Court shopping complex.
A veranda-covered walkway runs along the front of the shops with a service lane to the rear for product deliveries and functionality. Ample common carparking is available on-site in the middle of the complex.
The nine tenants have all signed new leases within the past two years, making the property "ready for the market", says Stratton.
The tenants are Browns Bay Fisheries, Sushi Day, Diva Nails & Beauty, Bay Waves Hair Design, Northland Hearing Clinic, Pages Design & Print, Browns Bay Liquor, Gatehouse Locksmiths, and Stitch 'n Time Alterations.
The retailers have varying lease terms, expiring between May 2014 and February 2025, if all renewals are exercised. Net annual rental income on each tenancy ranges from $14,000 to $30,000.
The potential to add value later should also appeal to buyers, Stratton says. "The area's Business 2 zoning permits a wide range of uses, provided that any significant new developments achieve integration with the surrounding area."
Dowling says: "The shops benefit from a prime road-front corner site at the entranceway to Clyde Rd which is Browns Bay's main shopping strip, home to a range of national retailers including Farmers, Whitcoulls, Jean Jones, Stevens, various banks and many more.
"This, coupled with the affluent residential catchment which surrounds the shopping area, makes Browns Bay a tightly held retail location. Clyde Court is also home to a well-known French bakery and cafe, La Tropezienne, which draws people from all over the North Shore to the complex.
"Several low-rise apartment developments have been introduced in Browns Bay with the aim of revitalising the area for population growth. Future development along Clyde Rd is also on the cards, which will open up the commercial precinct to stunning Browns Bay Beach.
"Browns Bay benefits from good motorway and public transport links and is only a 20-minute off-peak drive from the Auckland CBD."