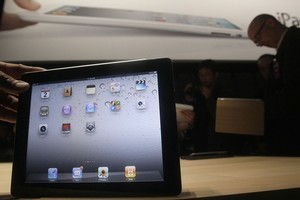 A court in China has ruled Apple can continue to sell its iPad tablet in Shanghai.
The Shanghai case marked a victory for Apple in a protracted legal battle with debt-laden Proview Technology over rights to the iPad name.
Reports say the trademark injunction was filed by the struggling Chinese technology firm which accused Apple of infringing its trademark rights to the iPad name, and asked the courts to stop Apple selling the device in the city.
The Shanghai Pudong New Area People's Court yesterday denied Proview's injunction, agreeing to Apple's request that the trademark infringement case be suspended pending a higher court's ruling in a separate case.
The Pudong district court found "a lack of evidence that ... the sales of the iPad tablet computer constituted a trademark violation".
The court also said there was "no law or regulation" which prohibited Apple from continuing sales of the iPad.
"The court has decided to reject the provisional injunction and terminate the litigation of the case."
"It's a great help to Apple by giving it some breathing space," said Ren Wenfeng, a lawyer at Guo Ce Law Office who is not involved in the dispute.
"But it's not clear whether Apple will eventually win the trademark infringement case in China, as the crucial thing will be the ruling by the Guangdong higher court." That hearing is set for February 29.
Reports say Proview, which makes computer monitors, registered the name "iPad" in China in 2000, years before Apple released its tablet. Apple acquired worldwide rights to the name in 2009. The Chinese tech company has threatened to continue the battle in United States courts.
"This is a wrong decision," Roger Xie, Proview's lawyer, said. "We will submit an application for the court to reconsider its decision."
An injunction on iPad sales in Shanghai would have forced the company to remove the iPad from its three stores in Shanghai, one of its biggest markets.
- AAP