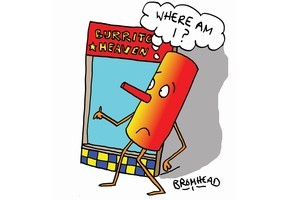 When my caregiver caught me fraternising - yet again - with an attractive young lady, I had to gently remind her that it was really her fault I had a wandering eye.
It's not because of inadequate caregiving. To the contrary, it's about her "over-caring" habits, such as providing culinary delights that would make so-called celebrity chefs weep with jealousy.
The reason I was trying to bond with another nubile creature was simple - I had forgotten I was married.
Now, before readers condemn my feeble attempts to slip a spoonful of salacious behaviour into my daily existence, I must remind everybody that as I am a septuagenarian, the tide is on the ebb in the memory department.
Forgetting one's matrimonial status is simply, well, one of those heavy crosses bewildered old men sometimes have to carry, like putting up with the embarrassment of walking the streets wearing non-matching shoes or not recalling where the car is parked.
I had always presumed that the onset of forgetfulness was because of over-indulgence in fermented grape extract.
However, I've learned lately that it's the caregiver's delicious treacle tart that's mopping up my precious brain tissue.
According to research from the Mayo Clinic, anybody older than 70 who consumes between 9000 and 25,000 kilojoules a day may be at double the risk of suffering memory loss.
Why overeating affects memory isn't clear, but the evidence suggests excessive caloric intake appears to lead to oxidative damage leading to structural changes in the brain.
This process can trigger the onset of what the neurology experts call MCI - "mild cognitive impairment" - and what we oldies laughingly dismiss as "geriatric moments".
Having returned recently from the United States, where everything is served jumbo-size, I'm not surprised that America is leading the research linking consumption habits and irreversible dementia.
In Arizona, for example, I discovered Quadruple Bypass Burgers weighing in at 8000 calories with a fat level of 60 grams - making a McDonalds cheeseburger almost healthy by comparison.
My favourite potential memory killer is the American breakfast burrito.
One Colorado restaurant proudly gives its customers a dynamite serving consisting of seven potatoes, 12 eggs, 0.45kg of ham plus cheese, onion and chillies.
This leaves a vexing dilemma for this doddery old gourmet.
If I continue consuming such gut-busting fare, will a coronary mercifully overtake me before my empty head confuses any more ladies over my marital status?