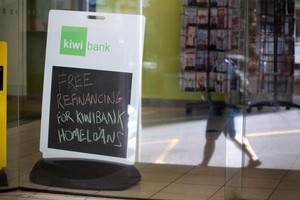 Kiwibank's first-half profit of $37.9 million has rebounded strongly from $13.9 million for the same period a year ago.
Chief executive Paul Brock said the state-owned bank, which is approaching its 10th anniversary, was "continuing a very positive growth path" after its result a year ago was hit by the global financial crisis and the Christchurch earthquakes.
"Our underlying performance has always been strong, with consistent growth in lending and deposits and improving margins.
"We have largely worked through the setbacks associated with the global economy and with the events in Christchurch."
After almost 10 years in business the bank's success was "beyond question".
Nevertheless Brock said the bank was wary of the European debt problems which could have an effect on its funding costs.
"We're not out of the woods yet."
The bank's lending increased by 10 per cent or $1.1 billion to $12.1 billion, and that loan book was more profitable, with the net interest margin rising from 1.42 per cent to 1.69 per cent.
A "reasonable amount" of the margin increase was down to mortgage borrowers favouring higher margin variable rates, Brock said.
The increasing loan book and margins translated to a 38 per cent increase in net interest income to $123 million.
Meanwhile retail deposits increased from $7.6 billion to $8.6 billion.
Brock said most of the growth in Kiwibank's lending and deposits was coming as customers switched from other banks, for a variety of reasons.
Another positive for the bank was a fall in bad debt charges, which went from $31 million a year earlier to $18 million.
The bank received $50 million in additional capital from parent New Zealand Post in December.
Brock said growth and new regulatory requirements meant retained earnings would not be sufficient to meet the bank's capital needs over the next year and it would require further capital from NZ Post.