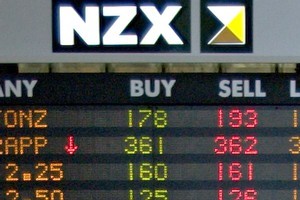 Stock exchange operator NZX reported a 56 per cent gain in its net profit for 2011 today, despite a difficult year for the financial markets, and said it will return up to $35 million to shareholders.
Shares in NZX rallied sharply on the news of the profit and return of capital, gaining 21c (8.1 per cent), to $2.80 in the first few hours of trading.
The company, which operates trading platforms for a range of financial instruments and which is also involved in providing market information, said its net profit for the year was $14.5m, up from $9.3m in the previous year.
NZX said the key to its result was broad based revenue growth and better margins.
Operating revenue grew 11 per cent to $55.6 million, compared with $50.2 million in the previous year.
NZX's total dividend for 2011 came to 11c, up from 10c in 2010.
The company said it intended to return about $32.5m to $35m to shareholders, representing 10 per cent of the company's market capitalisation, through a 10 per cent pro rata compulsory share cancellation. The return is expected to take place before the end of May.
A stock split of seven for three will be effected with the capital return, the company said.
Operating revenue grew 11 per cent to $55.6m, compared with $50.2m in the previous year, while operating expenditure grew by just under 4 per cent to $30.4m.
NZX said its operating profit margins rose from 41.6 per cent in 2010 to 45.3 per cent in 2011.
NZX Markets saw a number of significant initial public offers and a marked increase in trading activity while its dairy futures operation experienced significant growth.
Commodities trading platform NZX Clear met its second half forecast for tonnes traded on the grain exchange platform.
Looking ahead, NZX said the second half of 2011 in particular saw strong momentum across the business, which is flowing through into the first quarter of 2012.
NZX said it expected this year's margin growth rate to continue at a similar rate to 2011.
On the revenue side, liquidity in the cash equities, derivatives and commodities markets is expected to continue to grow.
Market data revenues are expected to improve.
In addition there is further scope for revenue growth through the Fonterra shareholders' market and listed fund, NZX said.
- APNZ