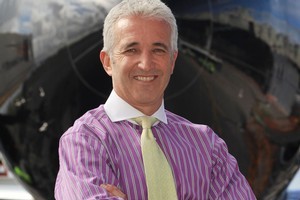 Outgoing Air New Zealand chief executive Rob Fyfe has been tipped by industry sources as a replacement for Telecom boss Paul Reynolds.
Telecom is on the hunt for a new head since Reynolds announced last year he would leave the company after its split with network arm Chorus.
Fyfe, credited with invigorating Air New Zealand during his almost seven years with the company, would be charged with leading Telecom through a difficult time as it adjusts to being a stand-alone retailer. The position becomes available in July.
Fyfe could not be reached yesterday but Telecommunications Users Association chief executive Paul Brislen speculated the Air New Zealand boss might "put his hand up".
"If we're looking at local figures, Rob Fyfe is a man who likes a challenge and this is going to be one of the biggest challenges in New Zealand business in the foreseeable future," Brislen said.
Although he did not put any names forward, IDC analyst Glen Saunders said the company should look for someone with a strong marketing background.
Forsyth Barr's Guy Hallwright agreed and said the business would need a chief executive who was focused on consumers.
"Someone who's particularly good on customer service, marketing, branding, basically running a customer-facing entity ... those kind of areas are going to be important for Telecom," Hallwright said.
Fyfe is no stranger to marketing and midway through last decade was drawing admiration for innovative approaches to traditional branding campaigns.
One market commentator, who did not want to be named, said Telecom would also need a boss who can cut costs.
Brislen said the new chief executive might need to slash jobs.
"I don't know what staffing levels are like but if you consider Vodafone New Zealand versus Telecom New Zealand the businesses are now very similar in terms of scale. Vodafone has about 1800 and I think Telecom's got north of 3000 so that is going to be a big issue for whoever comes in."
Because of those changes, Telecom could look for a "three-year chief executive" who comes in, makes changes and then moves on.
"That might not be a role that Fyfe would relish but it could well be that turning an organisation around of that scale and making it nimble and agile again is exactly the kind of thing he'll be up for," Brislen said.
According to sources, another candidate for the job is Chris Quin, chief executive of Telecom's information and communication technology branch Gen-i.
Former chief financial officer of Canadian-based Mitel, Quin has worked for Telecom since 1991 and been head of Gen-i since 2008.
The Weekend Herald understands he put forward his name last year but Quin would not comment yesterday.
Some commentators have also speculated that Telecom's former chief operating officer Kevin Kenrick will make a return in the top spot.
Kenrick worked for Telecom for eight years in a variety of divisions including sales, marketing and mobile.
He is also likely to be known to new Telecom chairman Mark Verbiest, who worked for the company as group general counsel when Kenrick was there.
Known as "KK", Kenrick left House of Travel Holdings after a three-year stint as chief executive in 2011 and was national marketing director at Lion Nathan between 1996 and 1993.
According to his LinkedIn page, Kenrick is on "extended holiday and looking for the next big thing".