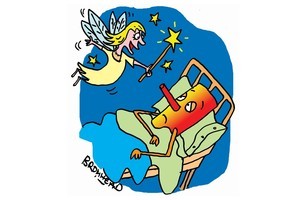 Time I normally allocate to consolidating my business empire has lately been overwhelmed with more pressing matters.
My 6-year-old son has begun losing his milk teeth.
Board meetings have been cancelled and international commercial activities are on hold, because I'm bogged down negotiating the value of my offspring's discarded incisors. Unfortunately, I haven't been able to communicate directly with the Tooth Fairy to assist with the arbitration process.
Regretfully, at the time of releasing this media update, I can give no assurance to readers that a concord is imminent that will satisfy all parties in the dispute.
I should add that it would be easier for me to negotiate a deal between the Ports of Auckland and the Maritime Union than conclude a collective contract agreement between my son, the Tooth Fairy and the adults who thought they were running the household.
My son has informed me through a third party (his mother) that he's ready to reconvene when I've got something new to bring to the table.
The Tooth Fairy is being particularly unco-operative by failing to support me during this crisis.
None of my professional sources has been helpful. "Has anybody got the emergency contact details of the Tooth Fairy?" I've been frantically asking my accountants and lawyers.
I even approached the Reserve Bank, hoping their analysts might shed light on the exchange rate for deciduous dentition in small children for the last quarter.
As usual, they're worry-warting about the plight of Greece, instead of focusing on guiding the local market on the accurate value of superfluous milk teeth.
Basically, my son is holding out for a monetary award that appears far too astronomical for this muddled old codger to cope with.
The going exfoliation rate when I was a boy was 5c per tooth.
Allowing for inflation, I have recalculated this to a generous $2.
However, my child - now outrageously expert at seeking information on his mother's iPhone - suggests that according to a Wikipedia report the average payout in America last year was US$2.60. Converting the exchange rate to the nearest cent, he believes the Tooth Fairy should be stumping up $3.14.
Here we have reached an impasse.
Matters are not helped by a recurring dream experienced recently. I'm constantly waking to find the Tooth Fairy hovering above my head, taunting me with the same question: "Hey gummy old man! Would you like to buy your teeth back?"