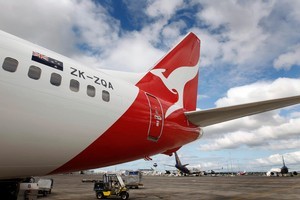 Australian airline Qantas is slashing jobs and dropping routes as it battles a volatile global economy and sliding profits.
Qantas says it will withdraw from the Auckland-Los Angeles and Singapore-Mumbai services from May 6. The airline had already announced it will withdraw from the Hong Kong-London and Bangkok-London routes from next month.
Auckland Airport spokesman Richard Llewellyn said the company was surprised Qantas was dropping its Auckland-LA run.
"From our perspective the route's [in general] been performing well so we don't believe that the decision is a reflection on the route or the US market," Llewellyn said. "We think another player will pick up the slack or look at the market opportunity."
Air New Zealand would be the only airline flying direct to Los Angeles from Auckland after Qantas stopped its service.
The airport had its busiest week for international travel in January, Llewellyn said.
"There's lots of growth opportunities out there. From the industry's perspective there have been some market shifts as to where that growth is coming from."
Jetstar Group chief executive Bruce Buchanan said Los Angeles could be a possibility for the low-cost carrier, which was due to receive new Boeing Dreamliner aircraft in August next year. "And that's the sort of market that we'd have another look at at that point in time."
Qantas' underlying profit before tax for the six months ended December 31 was down 51.6 per cent compared with the previous year, falling to A$202 million ($260.5 million).
It said the result reflected a A$194 million impact from industrial action and a 26 per cent rise in fuel costs to A$2.2 billion.
Chief executive Alan Joyce said it was a good performance in challenging circumstances and disciplined financial management was vital in a volatile world economy.
"Today we have set out a package of initiatives appropriate both to the current conditions and our long-term goals."
Australia's largest air carrier will cut about 500 jobs after posting an 82.6 per cent drop in net income to A$42 million.
Qantas, which did not provide a full-year forecast, will cut the jobs as it rejigs maintenance and catering divisions to lower costs and compete with Asian carriers. "Our objective is to minimise compulsory redundancies," Joyce said.
"The highly competitive markets and tough global economy in which we operate mean that we must change."
The European debt crisis and weaker global growth forecasts had resulted in a deterioration in the aviation operating environment, the airline said.
Fuel prices remained high and the group faced pressure from strong competitor growth, cost disparity with competitors and the uncertain economic environment.
"Improvements in operating cash flow, revenue, yield and unit costs, and record results for Jetstar and Qantas Frequent Flyer, helped offset the financial effect on the group," Joyce said.
Peter Esho, chief market analyst at City Index in Sydney, said the Qantas group included an international division, low-cost carrier Jetstar, cargo and a resilient domestic business.
"This combined provides some diversity, gives them some flexibility in fighting the industry challenges," Esho said.
"And so with all that in mind and despite all the challenges during the half, they still managed to post quite a respectable underlying profit of 200-odd million dollars."
A lot of the fall in profitability was driven by external factors, including fuel.
"Qantas is very Asia-focused at the moment and they're really looking at rejigging their international routes and redeploying that capacity to Asia," he said.
"You might see new routes that don't necessarily stack up at the moment but it's more of a medium- to long-term plan to dominate in this region."