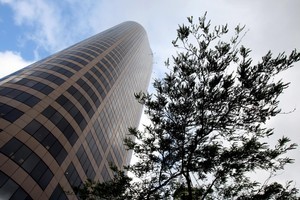 A reduced performance from commercial landlord AMP NZ Office met with a satisfied reaction from the market yesterday because the change was expected.
The NZX-listed real estate company, with property valued at $1.2 billion, suffered reduced financials in the property downturn but Jeremy Simpson of Forsyth Barr, Buffy Gill of Goldman Sachs and Craig Brown of institutional investor OnePath were not displeased.
"I was going for operating profit after tax of $27 million and it came in at $26.6 million. It looks good. It's down a bit on the previous year but we knew it would be because of what's going on in rents," Simpson said.
Gill said the first-half result showed positive progress.
"AMP NZ Office has reported a solid result, with rental income and distributable net profit after tax bang in line with our expectations. Portfolio metrics have been a modestly positive surprise, with the weighted average leased term having increased to 6.2 years and occupancy increasing to 92 per cent," she said, both of which surpassed her expectations.
Brown praised big changes which he said gave the company a far better long-term outlook.
"Management have significantly de-risked the portfolio over the last few months by focusing on leasing up the vacant space," he said, citing offices vacated by BNZ in Wellington, Westpac in Auckland's PricewaterhouseCoopers tower and empty floors at 21 Queen St in Auckland.
Net after-tax profit fell from $28.4 million to $20.4 million after rental income was reduced 5.8 per cent when cornerstone tenant Westpac left for Cooper and Company's East Building in the Britomart and AMP sold the Wellington Chews Lane property.
BNZ has also left the Wellington State Insurance Tower and occupancy had dropped to around 89 per cent.
Scott Pritchard, chief executive, said the half-year was good, major re-leasing initiatives were undertaken at the ANZ Centre on Albert St, risk was reduced and an emphasis was placed on long-term earnings security.
Occupancy was now back around 92 per cent, Pritchard said.
Shares closed yesterday up 0.5c at 88c.
AMP said yesterday the real estate scene it operated in was improving.
"The outlook for prime CBD office space has improved in recent months with most research houses now forecasting market rental growth in Auckland and Wellington."