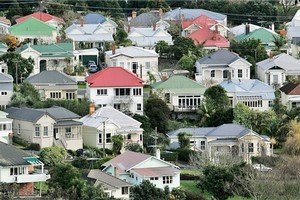 Government owned property valuer Quotable Value (QV) has released its monthy survey of property value nationwide showing values are have risen 1.1 per cent in the last three months and are up 2.7 per cent from a year ago.
The Quotable Value index, however, remains 2.7 per cent below its late 2007 peak and prices are falling again in provincial areas, QV reports.
Quotable Value's measure of house values is different from the Real Estate Institute of New Zealand's (REINZ) measure, which is a simple median of house prices transacted in any one month and can be skewed by more activity or bigger price moves in different parts of the market.
The QV measure compares the prices transacted of the same types of houses in the same areas to try to compare apples with apples. REINZ figures for January are due within days and will be closely watched as they are seen as the broadest and most up to date figures, although more volatile.
The REINZ figures also show levels of activity in terms of sales.
Auckland's largest real estate agency group, Barfoot and Thompson, reported figures for January showing Auckland Central house prices up 9 per cent from a year ago with sales activity up around 21 per cent from a year ago.
"While national values are continuing to increase, this is not universal across the country. While the combined main urban areas and combined rural areas have increased over the past few months, the combined provincial areas have begun to slide back again" said QV.co.nz Research Director, Jonno Ingerson.
"There appears to be a little more market activity since the New Year, with signs that decisions made over the holiday break are now being put into action. However potential buyers remain cautious and calculated and are often unwilling to commit quickly," Ingerson said.
"The increase in values in many areas, particularly central Auckland, can in part be attributed to a lack of supply, with a shortage of desirable and well presented properties for sale. When quality properties come up for sale in these areas they are in high demand which is tending to push the price up," he said.
The combination of the Barfoot, REINZ and QV figures paint a picture of a two speed market, with stronger activity and prices in central Auckland and Christchurch, where waterproof and undamaged houses are selling well. Prices on the fringes of the major cities and in provincial areas are more subdued, given supply shortages are less acute and both internal and external migration are reducing demand for property.