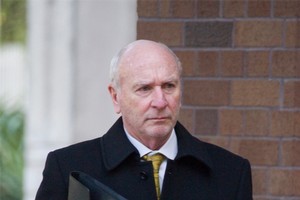 Former Bridgecorp director Rod Petricevic is expected to take the stand in the High Court this week, defending allegations he misled the failed finance company's investors.
The trial of Petricevic - with fellow directors Rob Roest and Peter Steigrad - continues in Auckland, with the Crown case against the trio winding up.
Yesterday, Crown witness and accountant Grant Graham was cross-examined by defence lawyers.
Petricevic's counsel, Charles Cato, questioned Graham over Bridgecorp's lending practices and suggested its deals with other finance companies made "some commercial sense".
Before it collapsed in July 2007, Bridgecorp made arrangements with companies, such as Hanover, to get money to pay investors. At times this involved Bridgecorp selling the rights to loans it was owed in exchange for millions of dollars upfront.
Cato put it to Graham that refinancing meant Bridgecorp got some money back and reduced its exposure.
In response, Graham said refinancing gave a company short-term benefits but then put it "at the mercy" of the first charge-holder.
Today, the Financial Markets Authority - which is bringing the Crown case - is due to call its final witness, receiver Colin McCloy.
After McCloy's testimony and cross-examination the defence will present its case in full - with Petricevic expected to be called this week as the first witness.
Roest and Steigrad will then also give evidence for the defence in a trial expected to run until March.
The three on trial each face 10 Securities Act charges for allegedly making untrue statements in the offer documents of Bridgecorp and Bridgecorp Investments.
Petricevic and Roest face a further eight charges under the Crimes Act and Companies Act.