Earthwise has helped take natural cleaning products from niche markets to supermarket shelves.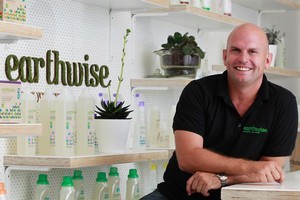 Good things really do take time. Two family businesses, one in the Waikato and one in Auckland, have combined forces and created a business that has boosted revenue by 1000 per cent since October 2010.
Earthwise, which makes natural laundry and dish-cleaning products, has gone from niche retail stores, to selling in supermarket chains in New Zealand, and more recently has expanded into Australia and Asia. Earthwise director Jamie Peters jokes that the company is a 50-year overnight success story: "We call it the 50-year-old start-up."
Tom Robinson, who died last year, started what became Earthwise in 1964 by making his green products in the tiny town of Orini, Waikato, and selling them to boutique organic and health food shops. Peters says Robinson "was seen as quite alternative" for those conservative times.
"But now the whole value structure of your average New Zealander has changed and people want to do something nice for the environment; people actually care," he says.
"From the days when Tom started to now has been the full swing of the pendulum."
Meanwhile, the Peters family founded Nice & Natural, where Jamie worked in sales and marketing, and which was eventually sold to Griffins. Peters and his father Allen, Earthwise chairman, were looking for new opportunities and immediately recognised kindred spirits when they met the Robinsons.
"I got involved in mid-2010 when the Robinsons were looking to change and grow the business and take it from a cottage industry to the supermarkets," Peters explains.
He says the company was quite conservative in its initial approach, launching only Earthwise laundry products into the supermarket chains, but the results were nothing short of a triumph.
Sales doubled and "now we're up to about 20 different products in the major supermarkets". Revenue has grown 1000 per cent since October 2010 and it is a multimillion-dollar business and still putting on growth.
It was during this period that Tom Robinson passed away. "It was sad for everyone," says Peters, "but it's safe to say he was extremely impressed with what happened [with Earthwise] in that short time and his legacy lives on through the business." Both Robinson's sons, Jeremy and Kayol (a Welsh name), work at Earthwise.
Earthwise is now in the final stage of obtaining the highest rating available in New Zealand, Environmental Choice, a government-endorsed designation that provides globally recognised certification.
"It is expensive. It's been quite a process but we're nearly there," Peters says.
"A lot of the stuff in the [supermarket] cleaning aisles are petro-chemical or chemical-based. Our products are [manufactured from] plants, minerals, salts, oils, lavender - that's the cutting agent - citrus and pine, so our products are skin-friendly."
What sets Earthwise apart from its environmentally friendly competitors is the belief that the product should not be premium, but pitched mid-market and affordable for the average mum and dad shopper.
There was also innovation: "We put the first environmentally-friendly air fresheners on the market; we've put disinfectants in there."
Earthwise invested heavily in automating parts of the production process, including a laundry bagger and what Peters calls an "automated cardboard cartoner".
"That takes our capacity up over - running on a slow day - to 60 bags a minute, which I think is pretty good. People have asked us how we've been able to maintain mainstream-equivalent prices. It's simple - we've got everything under one roof [in its St Johns, Auckland factory], whereas some of our competitors have third-party manufacturing, distribution and sales and that all adds to cost. And we're a low-cost provider."
Its success has been recognised. Earthwise won the Progressive supermarket supplier of the year award for the cleansing category.
Key to its future success will be its expansion across the ditch: "We've had some success in Australia - 400-500 health food shops, primarily down the eastern seaboard."
Earthwise is in talks with one of the major supermarket chains, but Peters is understandably coy about the status of those discussions. Asia is also a target: "We've got some niche footholds in a couple of Asian markets," he says of the company's partnership with distribution firm New Zealand Natural Exports. If Earthwise can get into an Australian supermarket chain, he estimates the company can sell four times as much as it does at present.
But even if the supermarket deal goes ahead, Peters promises to keep Earthwise a Robinson-Peters family business. "We're stoked - everybody is really happy that we're providing a really good offer for people and it's nice to see it all out on the shelves. We do feel proud here."