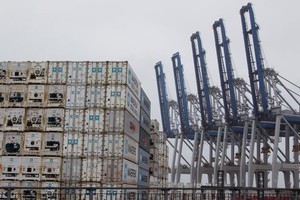 Ports of Auckland workers are set to strike for a full week in a new escalation of their long running employment dispute.
The just-announced strike action is set to start at 7am on February 24.
It is in addition to a partial strike set to take place from February 15 to 22.
Maritime Union National President Garry Parsloe said the new industrial action was a response to the "imminent threat" to workers livelihoods.
"The port company is planning to make our members redundant and contract out their jobs. This casualisation exercise is a direct attack on conditions of work and secure, permanent jobs."
"Families are being bloody destroyed. They would sooner be sacked or made redundant than to not know what's happening."
Ports of Auckland said it had not yet received an eighth strike notice from the Maritime Union.
Its chief executive Tony Gibson said the repeated strike actions were a "roadblock to progress".
He said the company would continue to consult over its proposal to contract out labour at the container terminal.
A further meeting between port authorities and workers was planned for tomorrow.

The strike will be the latest in a running battle between port management, who want to cut costs by increasing use of casual labour, and the union.
The dispute has cost the transport hub contracts with shipping line Maersk and dairy exporter Fonterra.
Ports of Auckland has threatened to outsource workers' jobs amid the continuing strike action.
Parsloe said the port company management did not understand the consequences of their "extreme" course of action.
"It is an attack on the port workforce and their families and is bringing the future of the Ports of Auckland into grave danger."
Ports of Auckland workers have been handing out pamphlets making the case for their industrial action at transport hubs such as Britomart.