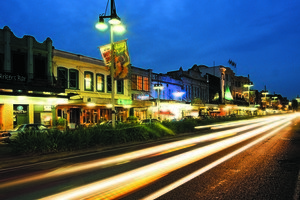 Realistic rents and building upgrades are credited with filling up retail space in Hamilton's central city.
There are fewer empty shops in the CBD than at any time in the past three years, with mainly food and fashion retailers moving into empty shops there in the six months to December 2012, according to a survey by real estate firm CB Richard Ellis.
Its director of commercial sales and leasing, Mike Neale, said the increase was due to a mix of new independent retailers moving in, retailers opening second stores, or relocating.
Retail vacancies fell to 11.3 per cent from 12.7 from July to December.
He said retail space between Barton St and Garden Place was most in demand, but space in Alexandra St was still hard to shift.
However, a redevelopment programme from one of the larger landlords on Alexandra St, DB Bryan Trust, was attracting some new interest.
The highest rents tended to be in Ward St and parts of Victoria St, but many of these had dropped from the high amounts sought in 2006.
Mr Neale expected the new lower levels to remain relatively stable but said there could be a slight increase in empty space for the first half of 2012 because some tenants on short-term leases often moved out after the busy Christmas period.
Hamilton Central Business Association general manager Sandy Turner said there were some exciting developments in the CBD and she attributed the filling of spaces to motivated landlords finally meeting the market.
"Landlords are doing an amazing amount of proactive, realistic and fair negotiations at the moment and we are getting lots of feedback about that.
"I've heard in the last three weeks of landlords who are putting up to $30,000 towards fit-outs, so that's a big turnaround, and supporting new businesses getting set up.
"They've had to rethink from a commercial perspective, they have had to get real around the economic situation and I think most landlords are really realistic now."
Hamilton Mayor Julie Hardaker said confidence was returning to the market in the retail and office sector which was being helped by proactive landlords meeting the market.
She challenged other landlords to revamp buildings and offer realistic rates to capitalise on having more affordable pricing than Auckland and the opportunity to re-house Christchurch businesses leaving that city.