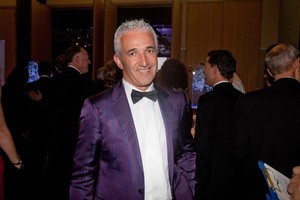 Rob Fyfe, the charismatic chief executive who has navigated Air New Zealand brilliantly through a world-wide recession and cut-throat competition in the aviation industry, will be leaving the company at the end of the year.
The 50-year-old, who's seen Air New Zealand win numerous awards during his tenure and whose sensitive handling of the Airbus crash off the coast of Perpignan has become a template for other companies on how to handle corporate tragedies, won't be retiring. He says he's looking for new opportunities and they will doubtless come his way.
I have a number of friends who work at Air New Zealand and they adore the man. He's been known to work a day within every department that makes up the company, from helping with the catering to handing out the lollies on flights. He's passionate about the company and the people who work for him and he was willing to strip off and take part in the risque "Nothing to hide" commercials, showing Air New Zealand staff in little more than body paint.
(For a man who is an inveterate gym bunny, that was probably a little bit of vanity publishing).
In all my years of writing this column, he was the first man to request the opportunity to present his side of the story, after I commented negatively about a pilot with four drink-drive convictions still being employed by the company.
The opening line of his email, which arrived only hours after the paper had hit the streets, was a disappointment: "It has been brought to my attention by colleagues and customers that ..."
Please. Petty point-scoring. Even if he didn't wait at the end of the driveway every Sunday for this newspaper, breathless with anticipation at what my column might contain, he would have read the thing to find out what it was I'd said. So that seemed a little beneath him.
But the rest of the email was courteous and he asked for a face-to-face meeting to explain his company's culture and their drug and alcohol policy. Fair enough.
Despite the fact that he and Mike Hosking look like they raid one another's wardrobes and share grooming tips, I was not immune to the man's rock star reputation.
So I went to company HQ and spent an hour with Rob and it was - odd. We were on totally different wavelengths. Miles away from understanding one another. He'd try to make his point. I'd look at him with blank incomprehension and try to state my case and he'd stare blankly back at me.
There was no ill-will or hard feelings. We just didn't get one another, like some people don't like oysters even though they know they should.
I wish I had got him. And he's the super successful corporate high flyer, not me, so the fault must be on my side.
I wish him well whatever he does next and congratulations for creating an airline New Zealanders can be proud of.