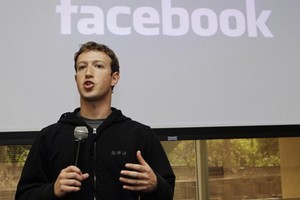 Facebook may command a valuation more than five times higher than Google as it seeks to raise US$5 billion ($6 billion) in the world's largest initial public offering of an internet company.
The social-networking company, which filed for the IPO yesterday, may be valued at as much as US$100 billion ($120 billion) in the sale, two people with knowledge of the matter said.
At that level the company would trade at 26.9 times 2011 sales, compared with about five times for search-engine operator Google, whose market value has jumped eight-fold since its IPO.
Facebook said it planned to trade on either the Nasdaq or the NYSE.
"Google was an awesome IPO," and its success since is the reason Facebook can come out at such a high valuation, said Tim Cunningham at Thornburg Investment Management in Santa Fe, New Mexico.
"That hope and potential is exactly why it's potentially a US$100 billion deal."
Facebook co-founder Mark Zuckerberg is asking investors to pay more than double the valuation of Google's 2004 IPO even as competition from Google+ and Twitter increases.
Facebook wrested the lead in US online display ads from Yahoo last year, taking a 16.3 per cent share, according to researcher EMarketer.
Facebook didn't disclose the number of shares it plans to sell in its filing, and the amount it is seeking to raise may change.
The company is considering a valuation of US$75 billion to US$100 billion, said the people, who declined to be identified because the matter is private.
Based on the top end of that range, Facebook would be valued at 100 times its 2011 net income. Fast-growing companies' price-to-earnings ratios often start high and gradually fall.
Google, which at its IPO was valued at 121 times trailing 12-month earnings, now trades at about 20 times.
Sales at Facebook, which became the dominant social-networking site in 2008 by leapfrogging pioneer MySpace, surged 88 per cent to US$3.71 billion in 2011.
Net income in that period jumped 65 per cent to US$1 billion. Facebook's revenue may rise to US$6.5 billion to US$6.9 billion this year, EMarketer estimates show.
The site, which has amassed more than 800 million users, makes money by selling ads to companies that want to reach that growing base. Industry wide, spending in the US online display ad market may surge 20 per cent this year, according to EMarketer.
To capture those ad dollars, Facebook will have to find ways to continue to engage users. US visitors to Facebook in December spent an average of seven hours on the service, a 32 per cent increase from a year earlier, ComScore said. Visitors spent about 4.5 hours on Google's sites and even less on Yahoo's.
"The greatest challenge obviously is keeping the advertising momentum because advertising is their key source of revenue," Debra Aho Williamson, an analyst at EMarketer, said of Facebook. While almost 90 per cent of last year's sales probably came from ad revenue, Facebook also is seeking new sources, such as credits that values Facebook as high as $120musers buy and redeem for goods and services, she said.
Zuckerberg co-founded Facebook in 2004 with his college roommates, creating a site that allowed students to interact via the web. He later made the service accessible to everyone, intensifying competition with sites such as MySpace and Friendster, founded in the two years before.
Facebook raised US$1.5 billion from backers including Goldman Sachs Group and Digital Sky Technologies, according to a January 2011 statement, an investment that implied a total value of US$50 billion for Facebook. The company's valuation is currently pegged at about US$74 billion by SharesPost, which handles trading of closely held companies.
Google, one of Facebook's main competitors in web advertising, raised US$1.9 billion in its IPO, including an over-allotment option.
For Facebook, consistent creativity should help spur sales growth, said Forrester's Elliott. "Facebook gives people a reason to come back, more than any other social space that has gone before, more than any other social space that we see online today. They're constantly introducing new features."
The numbers
US$5 billion
sought by Facebook in its initial public offering.
US$100 billion
top end of the valuation for Facebook.
US$1 billion
Facebook's net income for 2011.
- Bloomberg
Face values
Facebook CEO Mark Zuckerberg has outlined five core values in a letter to investors. They are:
Focus on impact
The best way to have the biggest impact is to always focus on solving the most important problems. Most firms do this badly and waste time.
Move fast
Moving fast lets us build more things and learn faster. We have a saying: "Move fast and break things." If you never break anything, you're probably not moving fast enough.
Be bold
Building great things means taking risks. In a rapidly changing world you're guaranteed to fail if you don't take any risks.
Be open
A more open world is a better world because people with more information make better decisions and have greater impact. We make sure everyone at Facebook has as much information as possible about every part of the company.
Build social value
Facebook exists to make the world more open and connected, not just to build a company. We expect everyone to focus every day on how to build real value for the world in everything they do.
- AP