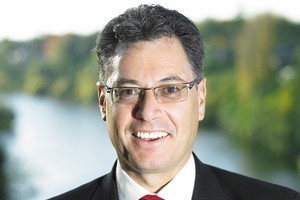 Waikato-Tainui's commercial arm is welcoming news that Ports of Auckland plans to expand, saying it will be good for its own developments and the country's growth.
Tainui Group Holdings has its own designs for an inland port at Ruakura in Hamilton - a move which has been long signalled.
Chief executive Mike Pohio supports the proposed 250m expansion of the port into the Waitemata by 2055.
In March, the port company wants the Auckland Council to "lock in place" a coastal zone allowing it to expand its waterfront from 77ha to 95ha.
"A port that is congested with containers on site runs the risk of a declining productivity," Mr Pohio said.
"I would contend that imports and exports need to come into and go out of the country in some way, shape or form.
"To stop that growth when there's a clear demand that we've got for an improved standard of living - it's just nonsensical.
"Our flat-screen TVs and the goods that we want aren't going to drop out of the sky and magically appear at the shops."
Mr Pohio said growth of the harbour port would be complementary to the tribe's vision for its Ruakura site on the outskirts of Hamilton.
A former Tauranga port executive, Mr Pohio said the relationship between inland and seaside facilities were more complementary than competitive.
Growth in Auckland could be supported by inland ports where the ideal situation would see the former acting as a quick transfer point from ship to land and the latter as more of a processing point.
Inland ports had lower land costs compared with traditional ports and should be close to importers or industries adding value, he said.
Those cost savings could be passed on through the supply chain.
HAVE YOUR SAY
Email us your views at harbourdebate@nzherald.co.nz