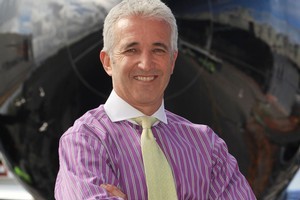 Rob Fyfe has been credited with invigorating Air New Zealand during almost seven years at its helm, but says he'll be disappointed if the share price is still languishing when he leaves at the end of the year.
The national carrier's 50-year-old chief executive, who yesterday announced he would step down on December 31, said it was difficult to beat the industry cycle and the economic environment.
"But if you look at our relative share price performance compared to other airlines, we actually do very well," Fyfe said.
Since June 2007, as the global airline industry has been hammered by rising fuel costs, economic turbulence and cut-throat competition, Air New Zealand shares - which closed unchanged at 91c last night - have shed more than 70 per cent of their value.
"I think we always can do better but we haven't done too bad," said Fyfe, who replaced Sir Ralph Norris as chief executive in 2005, four years after the Government paid $885 million to bail out the heavily indebted, failing national carrier.
Fyfe said leaving at the end of year would coincide with the conclusion of his term as chairman of global airline network Star Alliance.
"I'm surrounded by many very talented and capable executives and if they are to grow and realise their full potential I have to create a space to allow them to do so," he said.
Air New Zealand chairman John Palmer is keeping his lips sealed over who might replace Fyfe.
Short-haul general manager Bruce Parton, general manger of technical services Vanessa Stoddart and international boss Christopher Luxon have been tipped as internal candidates who could be promoted to the top role.
Palmer said there were some very strong candidates within the airline's management team, but an international search would be launched. He would not say if an internal or external appointment was more likely.
"A normal search process like this will take roughly six months," Palmer said. "There has been, certainly within the company, a good deal of speculation as to when and whether Rob was going to depart as CEO, so for the good of the company it's been important to get that speculation out of the way."
BT Asset Management's head of equities, Paul Harrison, said there had been no obvious grooming of an internal successor for Fyfe. "It'll be interesting to see who they put their weight behind, but as we've seen with the NZX [which announced a replacement for chief executive Mark Weldon, yesterday] there's plenty of interesting people coming back from overseas."
Morningstar analyst Nachi Moghe said Fyfe's resignation was a negative for the company. "There will probably be a leadership vacuum."
But market commentator Arthur Lim said 11 months was plenty of time to find a suitable successor. "It's when [chief executives] leave abruptly that it's problematic."
Peter Harbison, executive chairman of the Centre for Asia Pacific Aviation and a veteran of the industry, said he would place Fyfe in the top five or top 10 chief executives he had known.
"On the cultural side he's been quite iconic in the New Zealand environment and that's something that's overflowed into the general body of knowledge globally," he said. "The world's his oyster."
Fyfe said his priority was "all about Air New Zealand", and he had not figured out his next challenge, but long term he wanted to be in New Zealand.
He said he was disappointed he would not see in the 2014 delivery of Boeing's much-delayed Dreamliner.
Air NZ boss navigated turbulence
A former executive at National Australia Bank, Bank of New Zealand and Telecom, Rob Fyfe joined Air New Zealand in 2003, but was quickly promoted to group general manager, airlines - second in charge. In 2005 he replaced Ralph Norris as chief executive.
Fyfe was immediately confronted by rising fuel prices, fierce competition, falling profits and having to axe hundreds of engineering and head office jobs.
Fluctuating demand and fuel prices have marked his time at the top but the airline developed a reputation for nimbleness and quickly cutting flying or capacity on routes most affected.
Fyfe, now 50, has been popular with most staff and he and the airline have several major industry awards. In 2009 he was named New Zealand's top executive in the Deloitte/Management magazine Top 200 company awards.
Judges said his handling of the Airbus crash off the coast of France had illustrated his personal management style and was now seen as something of a "blueprint" for how to handle stressful personal and organisational tragedies. In 2009 he apologised for the airline's handling of the Erebus tragedy.
Fyfe was also a key participant of the jobs summit that year.
He is a shareholder and independent director at scented candles maker Ecoya.