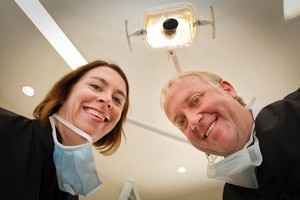 Hundreds of Christchurch companies are facing crunch time as the business interruption insurance that has tided them over since the February earthquake last year runs out next month. It's expected some will have to close.
Business interruption insurance covers short-term financial loss arising from interruption to operations as a result of damage to the premises or equipment. Most policies only pay out for a year after an incident, so on February 22 businesses will be on their own.
Recover Canterbury business recovery co-ordinator Bevan Killick said it was a major problem. "What we've had in Christchurch is totally unprecedented."
He said that in the past, a year's worth of insurance would have been enough to get a business back on its feet, but many were now finding that it was not enough. "If you're still behind a cordon, it's an issue for your livelihood."
Peter Townsend, chief executive of the Canterbury Employers Chamber of Commerce, said there were no official statistics available on how many businesses were relying on the cover, but he expected there to be hundreds.
Those operating with business interruption policies would have factored into their plans the fact that the payments would expire.
He said few businesses would be existing purely to claim on their insurance, even those that were operating in a much-diminished capacity. "In the context of business interruption insurance, businesses are required to do whatever they can to operate their businesses. There will be very few who are just sitting waiting for insurance to expire and then closing the doors."
Louisa Cullen, of Beale and Cullen Dentists, said there had been pressure on her business to get up and running again before her insurance policy payments ran out.
After the September earthquake, the business claimed a week of interruption insurance but realised that if it had been forced out of action for longer, it would not have been able to survive. The business' cover was increased three-fold before the February earthquake, which Cullen said enabled it to retain all its staff while its doors were shut for 10 months. Cullen had to find new premises for her business and said she was conscious of the February deadline.
"The builder's timeline initially had it finished in February but we said it had to be done before Christmas, come hell or high water," Cullen said.
The business is now operating again, and Recover Canterbury is providing marketing assistance to rebuild its customer base.
A spokesperson for Vero Insurance said most business interruption insurance it provided was for a 12-month term.
"We have paid out over $800 million across our group towards claims in Christchurch.
"This figure includes business interruption and progress payments." Brett Solvander, of the Insurance Council of New Zealand, said the quake had highlighted the fact that a lot of businesses did not have adequate insurance.
"We know, anecdotally, that some small- to medium-sized businesses did not have sufficient business cover when the first earthquake happened in September 2010 ... The big February 2011 earthquake compounded the issue."
Killick said it was important for a business to develop a good relationship with its professional advisers, including insurance brokers, to make sure it was getting adequate cover and to ensure the indemnity period had the appropriate start and finish dates.