Clean fuel pioneer LanzaTech is attracting interest from some very smart investors, but it's still early days.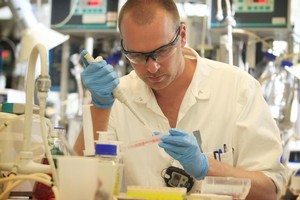 Promising science and technology companies are in and out of fashion so fast it is hard keep up with them all.
It doesn't help that most of them have names that make them sound like sci-fi villains or Austrian techno DJs.
The science can also be confusing. Even once you've grasped the multisyllabic name, explaining to someone else what they actually do takes some effort.
The hottest company on the scene right now is LanzaTech, and what they do is pretty amazing.
The company has patented technology that can turn the carbon-filled smog generated by steel mills and other big industrial factories into clean biofuel.
Pretty smart stuff and very appealing: let's save the world and make some money while we do it.
Founded in New Zealand in 2005, LanzaTech first turned up on the Business Herald's radar in 2006 in a piece examining the private investments of Warehouse founder Stephen Tindall.
Since making his fortune Tindall has been one of this country's great angel investors. His portfolio is full of sci-fi villains and Austrian techno DJs.
Most of them are based on technology that has the potential to change the world for good.
The trouble with technology companies is that even if the considerable odds of proving that the science works can be overcome, there is still no guarantee the product will be a commercial success.
Turning good technology into profits is a long and treacherous journey.
History is littered with examples of inventors who should have made a fortune with technology only for someone else to see the money.
Thomas Edison is famed for inventing the lightbulb but he didn't. He improved it, patented the improved version, fought off lawsuits from rivals who believed he stole their ideas and commercialised the result.
Few remember Sir Humphry Davy, who made the first electric incandescent bulb in 1802, or Frederick de Moleyns, who first patented a lightbulb in 1841.
So it is early days to be calling LanzaTech a business success story - for investors at least.
Initially its investors have been the kind of high net worth individuals, like Tindall, who understand this.
This week LanzaTech announced it had raised US$55.8 million in new capital from a combination of leading Malaysian state and private funders, along with existing investors in the United States, China, and New Zealand.
The ease with which it is now able to raise funds is an indication of how excited some very smart people are getting about its potential.
But whether or not these people ever see a return on their investment, LanzaTech is already deserving of high praise for the methodical way it has managed its growth path.
It has successfully followed the standard industry model for up-and-coming tech companies - that in itself is relatively rare for a local company.
From fledgling start-up targeting wealthy angel investors it has moved through the venture capital phase - with bigger sums being invested by specialist investment funds.
It has resisted the temptation to ride the hype and list early on the stock exchange, thus avoiding the pressures of unrealistic expectations from unsophisticated investors.
Instead LanzaTech has focused on long-term deals, establishing its reputation in the United States and China where it will ultimately find its market.
Now, with no desperate shortage of capital, it is starting to talk about a public float - perhaps as early as the second half of this year.
When it does float it is likely to target New York's Nasdaq or the Shanghai Stock Exchange.
Those exchanges will provide the company with a much higher profile and attract the attention of much larger investment funds than would a New Zealand listing.
Still, LanzaTech chief Jennifer Holmgren has generously indicated that a dual listing on the NZX is being considered.
That would be a coup for the NZX and provide an opportunity for interested local investors to take a stake.
Which brings us back to all those reasons why small investors should be wary of this kind of high-tech stock.
But never mind, we are going to hear a lot more about LanzaTech in the next 12 months and with any luck it will be exciting stuff that New Zealanders should celebrate.
If LanzaTech can change the world and make billions along the way, it will also succeed in blazing a much-needed trail for other New Zealand technology companies to follow.
twitter.com/liamdann