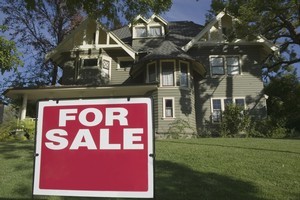 Disappointing data on American home sales overnight spoiled the party on Wall Street after an earlier report of better-than-expected orders for durable manufactured goods.
In early afternoon trading in New York, the Dow Jones Industrial Average eked out a 0.07 per cent gain. However, both the Standard & Poor's 500 Index and the Nasdaq Composite Index declined, falling 0.26 per cent and 0.32 per cent respectively.
Sales of new homes unexpectedly fell in December, dropping 2.2 per cent to a seasonally adjusted 307,000-unit annual rate. Economists polled by Reuters had forecast sales at a 320,000-unit rate. That helped make 2011 the worst year for the industry on record.
The data came a day after a report showing a drop in pending homes sales last month.
"Clearly we have had some decent housing data. [But] now we've had, a little bit today and yesterday, a potential slowdown," Ryan Detrick, senior technical strategist at Schaeffer's Investment Research in Cincinnati, told Reuters.
Other reports released today were more encouraging. New orders for US manufactured goods rose in December, with unfilled orders rising 1.5 per cent in the biggest climb since March 2008, while initial claims for state unemployment benefits rose 21,000 to a seasonally adjusted 377,000 last week.
"We're still very much established below 400,000, continuing to suggest that there is modest improvement in the labour market," Lindsey Piegza, an economist at FTN Financial in New York, told Reuters.
The latest US earnings were also, and yet again, a mixed bag. Caterpillar exceeded expectations, as did 3M. AT&T and SanDisk, however, both provided outlooks that fell short of estimates.
According to Thomson Reuters data, 59 per cent of the 152 companies in the S&P 500 that have reported earnings beat analysts' forecasts, down from the 70 per cent beat rate in recent quarters at this stage.
US Treasuries advanced, helped by Federal Reserve chairman Ben Bernanke's comments yesterday that the central bank hasn't ruled out buying more bonds to propel economic growth.
The 10-year bond yield fell four basis points to 1.95 per cent at 10.33am New York time, according to Bloomberg Bond Trader prices, after declining seven basis points yesterday.
In Europe, the Stoxx 600 Index ended the session with a 1.1 per cent climb as investors responded to the news that the US Fed would refrain from raising interest rates until at least late into 2014, which came yesterday after European markets had closed.
Talks between Greece and its private creditors about an agreement to lower the country's crippling debt load resumed amid a report that the creditors would offer to accept a lower rate on new bonds.
Meanwhile, Italian 10-year bond yields fell below 6 per cent for the first time in seven weeks after the nation sold its maximum target at an auction of zero-coupon and inflation-linked debt, according to Bloomberg.
"Italy's spread is tightening - the auction went well," Alessandro Mercuri, an interest-rate strategist at Lloyds Bank Corporate Markets in London, told Bloomberg. "It seems that Italy is being taken out of the picture, and now people are waiting for news out of Athens."
George Soros has said buying Italian bonds now was both dangerous and attractive.
The world's top bankers indicated they were more optimistic about Europe's efforts on resolving the region's fiscal crisis.
"2011 was a year of great fear around [sovereign debt risk]. Going into 2012 we feel somewhat more comfortable because progress has been made," Barclays' chief executive Bob Diamond told Reuters on the sidelines of a closed-door meeting at the World Economic Forum in Davos.