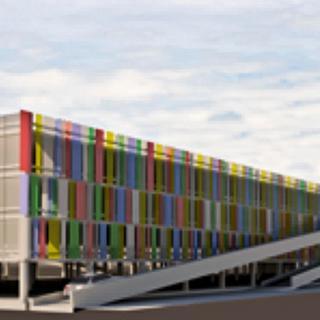 Ports of Auckland is planning a multi-storey carpark for imported vehicles - alongside a $40 million project to turn Quay St into a boulevard for pedestrians.
The carpark will replace the new- and used-vehicle storage facility on Captain Cook Wharf, which is expected to be released for public use between 2015 and 2020.
The port company said no decisions had been made about the size and location of the carpark, but the Heart of the City business group said that on the port's website, it was clearly marked just off Quay St at the southern end of Bledisloe Wharf.
Heart of the City chief executive Alex Swney said the prospect of frittering away the waterfront for a carpark was obscene, particularly after the opening last year of the Britomart carpark on Quay St.
The vehicle business should not happen in "any way, shape or form on our waterfront".
Northport at Marsden Pt, which is mainly used for log exports, has expressed interest in the vehicle trade to reduce the impact of Auckland's wharves on the CBD.
Mr Swney was speaking out against the carpark as part of a campaign urging people to find out more about the port expansion plans, which include extending the port 250m into the Waitemata Harbour.
Ports of Auckland is asking Auckland councillors to "lock in place"a coastal port zone allowing it to expand its waterfront operations from 77ha to 95ha.
Even if councillors include the port zone in the Auckland Plan in March, any expansion will have to go through a resource consent process where environmental and other impacts will be evaluated.
The port's infrastructure general manager, Ben Chrystall, said no final decisions on the carpark had been made, but it was likely to be in the southern half of Bledisloe Wharf. The area is zoned for buildings of up to 18m.
He said the attraction of a multi-storey carpark was that less land was needed for the vehicle trade. About 170,000 vehicles a year - more than 70 per cent of all those imported into New Zealand - were handled through Auckland. At any time, up to 7000 are stored on Captain Cook Wharf.
Waterfront Auckland, the council body taking a lead role in the $40 million boulevarding of Quay St, is taking a close interest in the port's carpark.
Chief executive John Dalzell said it was entirely appropriate to find a carparking solution to free up Captain Cook Wharf for public use.
He said there were some concerns with the current approach, but recognised it was early days and was happy to engage with the port company as the plans developed.