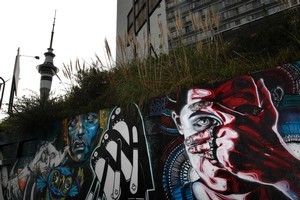 Rhubarb Lane, one of Auckland's largest remaining under-developed mixed-use freehold landholdings, appears to have been sold but the buyer's identity is yet to emerge.
Market speculation is that either Location Group or a wealthy family-owned business is now in control of the 2.9ha site but Mark Weipers, Location's managing director, could not discuss any deal.
"Who knows?" he said, adding that he might be a position to discuss it next week.
Robert Platt of Bayleys said no sale was yet concluded and it was irresponsible to speculate on buyers because he had heard of at least two other parties who had bought it.
"This time next week we will be in a position to provide further details if we are allowed.
"It has not been sold yet but we are negotiating with a preferred party. We are hoping to be able to do that in a short time," Platt said.
The site was heavily marketed by Westpac. Tenders closed on December 14 but negotiations are understood to have proceeded this month to secure the best buyer.
Platt could not disclose how many applications were submitted under the tender process for the site opposite The Radio Network building between Nelson and Cook Sts.
The property was for many years the depot for the Auckland City Council's works department and many of its former single-level workshop buildings are still on-site, also used for parking.
Bayley's marketing ditched the Rhubarb Lane project name and the site was instead sold as the Victoria Quarter after ambitious plans by landowner Doug Rikard-Bell turned sour.
The developer spent about six years pitching a vast project with many apartments after buying the freehold interest in the land for about $43 million in 2008.