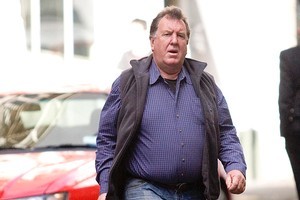 Former National Finance boss Trevor Allan Ludlow has had nine months added to his prison sentence for misleading investors and making false financial statements.
Ludlow's prison sentence was extended in the High Court at Auckland this morning after he pleaded guilty in December to eight charges brought by the Financial Markets Authority (FMA).
The director, who is 53 with five children, was already serving a sentence of five years and seven months in jail for seven separate charges brought by the Serious Fraud Office (SFO).
They included charges for theft by a person in a special relationship and false accounting.
He was found guilty of these charges in July last year and was sentenced in October but now faces a total prison term of six years and four months after nine months was added to his sentence this morning.
While the SFO charges related to how the director wrongly used investor's funds, the FMA charges were to do with how he acquired it.
Crown lawyer Steve Symon said although Ludlow had pleaded guilty to the FMA charges, he had shown no "genuine remorse".
"The Crown would categorise Mr Ludlow's remorse as self-pity...Mr Ludlow feels sorry for himself that he ended up in prison," he said.
Ludlow's apology was not something investors could "take to the bank", Symon said.
National Finance went into receivership in 2006, owing investors $21 million. Some investors have recovered 49 cents in the dollar, although others have been left completely out-of-pocket.
Symon went on to say that Ludlow's offending was dishonest, some of the "worst of its kind" and more severe than the "gross negligence" shown by directors of the failed Nathans Finance.
Two former Nathans directors, Roger Moses and Mervyn Ian Doolan, were both jailed for more than two years in 2011 for breaches of the Securities Act.
Given the jail time Ludlow was already facing, Symon suggested nine to 12 months be added on to his sentence.
However, Ludlow's lawyer Grant Collecutt said director accepted responsibility for investor losses and given $350,000 from the sale of his matrimonial home to receivers.
He requested a minimal uplift from Ludlow's existing prison term.
In laying down his sentence, Justice Kit Toogood said the former director "stood to benefit personally" from the offending.
Although investor losses were "significantly less" than in other finance company cases, Ludlow's personal level of culpability was higher as he had deliberately acted dishonestly, the judge said.
Investors had suffered "financial and emotional harm" because of Ludlow's actions, he said.
Because the offending was linked to what Ludlow was already in prison for, the court must consider the "principle of totality" when passing down a sentence," the judge said.
If Ludlow faced both sets of charges at the same time, Justice Toogood said a sentencing starting point of eight years' imprisonment would have been appropriate.
Following discounts for Ludlow's guilty plea and cooperation with receivers, the judge decided on a total sentence of six years four months for all the offending and added nine months on to the director's sentence.
Ludlow's associates Carol Braithwaite and Anthony Banbrook have pleaded not guilty to charges from the FMA, in a case expected to go to trial in July.