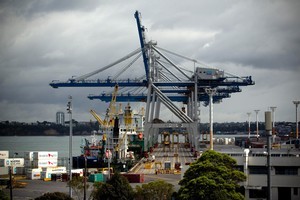 Both sides of the industrial dispute at Ports of Auckland see it as a matter of vital importance for the future. To the union, jobs are at stake. To the employer it's whether the port remains viable. Today each side states its case.
After months of discussions with staff and the union, two major contract losses and five disruptive strikes, the issues on Auckland's waterfront have become a focus for public attention this summer.
And justifiably so: as New Zealand's largest market and economic hub, Auckland needs a world-class, efficient and productive port.
The issues are not just of interest to Maritime Union workers, nor indeed Auckland ratepayers who do, and should, expect a satisfactory return on their investment in the Port.
The Ports of Auckland is a significant contributor to the national economy. In 2010 its operations supported 22 per cent of the Auckland economy, and sustained 336,200 jobs nationwide.
Those jobs include people working for thousands of small and large businesses who rely on an efficient port for their businesses to thrive.
As the recently appointed chairman of Ports of Auckland, with more than 35 years' international ports experience, I would like to highlight what this dispute is about - and what it is not - so the investors in the port, Auckland ratepayers, can consider for themselves what the real issues are.
For several years now the port has been losing ground to its closest competitor in Tauranga. The recent decisions by Maersk and Fonterra, for example, have not only cost the port revenue, but have threatened jobs, and shown us we have to act fast to address the issues once and for all.
While the media have focused on the negotiations with the Maritime Union, the board is committed to improving customer service, efficiency and productivity across the entire company.
At a frontline operational level, the port must have a flexible labour supply and shift systems in place to respond immediately to a highly variable shipping schedule, 24 hours a day, seven days a week. It is not viable for vessels to schedule arrival times around workers' shifts.
Auckland's poor productivity performance in comparison to other ports is highlighted in a draft report released this month by the Productivity Commission on New Zealand's International Freight Transport Services.
The study found that Auckland's crane rates - a standard measure of port productivity - are well below the New Zealand average, and all Australian ports. Old-fashioned work practices mean that labour utilisation rates are 25 per cent lower than those in Tauranga. Of particular concern is the amount of paid downtime. For every 40 hours a stevedore gets paid, he or she works just 26 hours.
Ultimately it's businesses, consumers and ratepayers that pay the cost of these inefficiencies. A fundamental realignment of workplace practices is needed. There is no time left for tinkering around the edges.
Given its scale, and access to New Zealand's largest market, with an appropriately flexible labour model in place, Auckland has the right fundamentals to be one of the best performing ports in the Asia Pacific region.
For nearly a year we have tried to achieve these changes in collaboration with the Maritime Union, through a new collective agreement. The two other unions represented on site - the Engineers and Pilots - have showna willingness to work with the company on achieving greater efficiency and flexibility.
Our goal has been to deliver the certainty and flexibility our customers need, while respecting our employees' preferences about when they work, and providing fair terms and conditions. These principles were at the heart of all offers the port has put on the table for negotiation since August. However, with the significant loss of business from Maersk and Fonterra, and further leakage of customers, we're out of time. We need to act in the best commercial interests of the port, and act now.
We have instructed management to proceed with consultation over a proposal to contract out its labour force, a process under way now. People often ask me why all of this takes so long. The answer to that is that we are required to follow a process for negotiation and consultation which is carefully prescribed in employment legislation. Recent actions have led to conjecture about plans to "casualise" the workforce and privatising the port. I can categorically say that the board has no such intentions.
Outsourcing labour is a standard approach adopted by most reliable, efficient and well-run ports around the world. It has been a primary contributor to Tauranga's success as the country's top-performing port since 1989. In fact, Auckland already uses contract labour in many parts of its organisation, including the cruise ship and multi-cargo areas of the operation.
Speculation about privatisation is also a red herring. Any decisions relating to this would be a matter for Auckland Council Investments and, ultimately, the Auckland Council to decide.
Our duty is to protect the value in the port, win back lost customers, and to put the port back onto a sustainable pathway to growth. A well-run, efficient and profitable port is critical to the Auckland region, and the country's future economic growth. As the board of Ports of Auckland that is our intention and our responsibility to all our stakeholders.
Richard Pearson is chairman, Ports of Auckland.