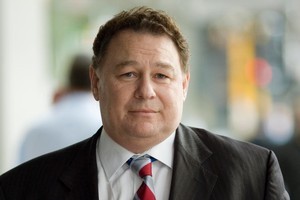 A Blue Chip investor and a lawyer who acted for more than 250 people have welcomed liquidators' court action.
Greta Norman, who bought a Hobson Brown apartment in Quay Park through the companyin 2007, was delighted at yesterday's move by Meltzer Mason Heath to lodge a statement of claim in the High Court at Auckland.
Although her unit had long since been withdrawn from the Blue Chip business, she expressed concern for the many others who had lost money.
Lawyer Paul Dale was also pleased: "Any move that's proactive is a good thing. We have claims against a number of them." He has spoken out against liquidator inaction in the past.
Liquidator Jeff Meltzer said yesterday the filed claim related to about 800 investors owed more than $40 million when Blue Chip sold apartments off the plans in Emily Place, around Turner and Waverley Sts and in St Martins Lane in Auckland.
Meltzer said those named in the claim included Mark Bryers, the Blue Chip boss bankrupted in 2009, former Cabinet ministers Wyatt Creech and John Luxton, and ex-chairman Jock Irvine.
But many others were also named, he said, refusing to issue a list.
"It's taken some time to analyse the considerable data underpinning a series of complex Blue Chip investor agreements and sub-agreements during the relevant period," Meltzer said.
Flaws in the scheme caused the group's collapse with major losses. This month, Singaporeans are being asked to buy units in three Auckland blocks which Blue Chip victims are trying to escape via a Supreme Court ruling, due out any day.
They want to overturn a 2011 Court of Appeal decision which dismissed a bid to have a High Court decision reversed on sale and purchase deals Blue Chip investors had signed on units in the Barclay, Bianco, Icon, Chatham and Stadium blocks.
In granting leave to appeal, the Supreme Court said the issue was whether the marketing of investment products amounted to offers to the public of equity and debt securities.
In 2009, Meltzer, Arron Heath and Lloyd Hayward went to court in the first step of proceedings to capture the money and Justice Geoffrey Venning was asked to determine if the liquidators could take action against key Blue Chip bosses and advisers under the Securities Act.
Meltzer said yesterday Justice Venning ruled against the liquidators joining that action.
"We made an application to join in with Paul Dale's proceedings but the solicitors acting for three developments had problems because we were talking a different period of time than Paul Dale."