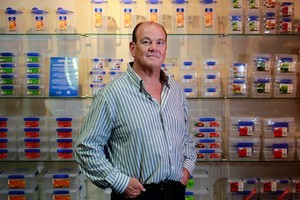 If you've got some plastic food storage containers sitting in your kitchen pantry, chances are they came from Brendan Lindsay's factory.
From its humble origins selling coathangers out of his Cambridge garage 30 years ago, his firm - Sistema - has grown to the point where it employs more than 300 staff and holds an 80 per cent share of New Zealand's food storage market, and 44 per cent of Australia's.
Lindsay says demand for his firm's products is so great that its high-tech, 270,000sq m Penrose factory, which has robotic production machinery, operates 24 hours a day.
Its KLIP IT containers, with their characteristic blue clips, are fixtures of Kiwi kitchens and staff lunchroom refrigerators.
Sistema, which exports globally and is on track to post a $100 million turnover this year, according to Lindsay, is a shining example of how manufacturing can survive - and thrive - in New Zealand.
He said the company had considered shifting production to a lower-cost country eight years ago.
"We made a commitment to stay in New Zealand and manufacture in New Zealand."
It was costlier to keep production in Auckland, but the flipside was the benefit the brand gained from being manufactured locally rather than in Asia.
Lindsay said the growth the company was seeing in volumes enabled it to keep costs down.
"It's so important that we keep growing so we can spread our overheads over the larger sales."
Sistema, which is still 90 per cent owned by Lindsay (he sold a 10 per cent share to a close friend last year), claims to be the fastest-growing food storage container brand in the world.
"We're growing at an annual rate of about 30 per cent a year," he said, adding that the plan was to double Sistema's size over the next five years. "That's all been driven by export."
As well as Australia, which is its largest market, the company exports to Britain, South America and Asia.
"Our big target is China this year."
Lindsay said product innovation was a big driver of growth in the company.
In addition to food storage containers, which make up about 90 per cent of sales, Sistema also makes a range of lunchboxes and drink bottles.
"We hold a number of international patents on different things ... we're constantly exploring how we can offer something different to the market. Innovation is the key."
Lindsay said the past few years of economic stagnation had been good for his business, as cost-conscious consumers had placed more focus on saving leftovers.
Sistema is a finalist in the 2012 New Zealand International Business Awards, run by New Zealand Trade and Enterprise.