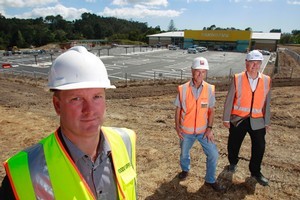 Silverdale is in the midst of a big-format retail stampede, about to get two new supermarkets, a Warehouse and a Bunnings.
A Pak'nSave will open in a few weeks and a Countdown is rising nearby, offering a big change to residents, many of whom visit Albany, Orewa or Whangaparaoa for their groceries.
Tony Catton, Foodstuffs (Auckland) acting general manager for property strategy, said late March was the opening target for the Pak'nSave at 20 Hibiscus Coast Highway. He expects 35,000 to 40,000 weekly transactions, resulting in about two million annual customer visits.
Mark Sigglekow of Pragmatix is in charge of the $36 million project, built by Fletcher Construction.
Silverdale has drawn more new stores with work at the Bunnings site due to start soon. The Warehouse is already rising and Progressive Enterprises is developing its new store as part of that Warehouse project.
About 60 workers are on the Pak'nSave site where the building has been closed in and internal fitout and racking for goods is rising.
Earthworks by civil works specialist Wharehine saw 877 foundation piles, some 28m long, sunk into the clay at least 14m down.
Catton said native skinks in the area had been captured, rehoused for six months then returned to a river area near the site after a barrier wall was built.
The 6450sq m store, with 320 car parks, was an average size for Foodstuffs, smaller than Pak'nSaves at Albany and Lincoln Rd which were just under 10,000sq m each, he said.
"We'll do another one of that size when the right opportunity comes along," Catton said yesterday.
Eighteen staffed and six self-service checkouts will operate in the store to be run by Vinod Bhaga, previously with Lincoln Rd Pak'nSave's management team but who Catton said had sold the Clendon New World to buy into Silverdale.
About 200 people will work at the store, which will receive about 65 truck deliveries daily. Catton said it would operate nearly 24 hours a day because restocking via forklifts bringing in produce by the pallet-load would be carried on late in the evening after closing time and bakers would arrive about 2am to start their shifts.
A 600sq m mezzanine floor has been built to house management offices, staff facilities, a fresh air balcony and amenities.
Luke Schepen, Progressive's national communications and public affairs manager, said yesterdaythat the Silverdale Countdownwas expected to open in the third quarter.
He said the store was 4200sq m and would have over 330 car parks.
CHECK IT OUT
* Foodstuffs building 14 new stores.
* Countdown building 25 new stores.
* Both building at Silverdale.
* Pak'nSave to open there in March.
* Countdown opening later this year.
* Warehouse and Bunnings also arriving.