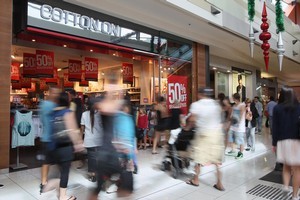 With a dash of confidence and a little imagination, Kiwi shoppers can create their own post-Christmas sales.
Haggling for a better price - something many New Zealanders do only on overseas holidays or in the used-car yard - can bring better deals in big retail chains, an unscientific test has found.
Shoppers are increasingly asking for lower-than-advertised prices on everything from television sets to watches - and are often rewarded with instant discounts.
"I think New Zealanders in the past have been a bit reticent to [haggle], but they are much better at it now," said Consumer New Zealand chief executive Sue Chetwin.
"They do make an offer and see what happens. And nine times out of 10, you will be able to get a better price than the one that's advertised."
A Herald survey of central Auckland stores yesterday netted discounts of $643 on four products with a total advertised price of $5450.
A sales assistant at Dick Smith initially said the $1397 price on a Acer laptop could not be reduced.
But when told payment could be made in cash that day and that other stores in the area would be asked about laptop deals, he phoned his manager and took $350 off the price.
A $199 extended warranty was offered with the deal - but Ms Chetwin warned that could negate much of the saving.
Such warranties, she said, were "an expensive waste of money that don't give any more rights than under the Consumer Guarantees Act".
Negotiation took $38 off a $379 watch at Walker & Hall, $98 off a $1297 Sony Handycam at Bond & Bond and $157 off a $2377 television at JB Hi-Fi.
Asking if the price could be bettered if payment was made in cash resulted in discounts at four of six stores visited.
Sunglass Hut would not discount a pair of $356 Ray-Ban sunglasses, saying prices were set internationally.
And efforts to knock down a sleeping bag's $800 price tag at Bivouac Outdoor went unrewarded.
Shops are not the only places to test bargaining skills.
Financial commentator Bernard Hickey, of interest.co.nz, says banks are as ripe a target for haggling as any other business.
Floating mortgage rates of around 5.75 per cent could be brought down to about 5.4 per cent through a broker or a direct approach to a bank manager.
"The banks rely on inertia, and laziness, to charge their advertised rates ... If you're paying the advertised rate, that's much higher than people who go through brokers."
Retailers Association chief executive John Albertson said the amount of information now available online had made New Zealanders more confident in seeking deals.
"They know what the market is selling a particular item at, and they will invariably suggest to a retailer that they should be meeting the market price."
And still-sluggish sales meant retailers were willing to be flexible on price, especially for big items such as appliances and electronic goods.
"The offers that some stores make - 'If you find it cheaper than our price we'll beat it by x per cent' - that in a sense is retailers leading the way in terms of bargaining."