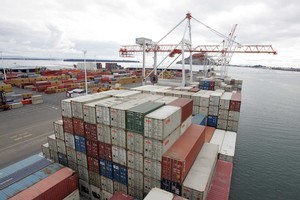 The New Zealand dollar may gain further ground against the euro, following the all-time high it reached against the economically troubled continent's currency yesterday, analysts say.
That's bad news for exporters, with the European Union an important market, especially for agricultural products, taking €2.7 billion ($4.3 billion) of Kiwi exports in 2010.
A strong currency makes exporters less competitive overseas and erodes their revenues.
The New Zealand dollar has gained more than 13 per cent against the euro since November and hit 62.85 just before midday yesterday, according to Bloomberg.
BNZ currency strategist Mike Jones said yesterday's high was a record for the kiwi.
The euro has come under pressure after rating agency Standard & Poor's downgrade of the debt ratings of nine eurozone countries, including France and Austria, which were stripped of their prized AAA ratings.
Local equities held up reasonably well after the downgrade, with New Zealand's NZX-50 index closed down 0.52 per cent last night.
Jones said New Zealand had a positive interest rate differential over the eurozone and this country had relatively low debt and strong growth prospects.
"That is continuing to attract investment into the kiwi dollar as the fortunes of the euro fall away," he said.
"Those positives should stay in play for at least the rest of this year."
He said there was potential for the kiwi to reach 65c to 66c versus the euro over the next few weeks.
Westpac senior market strategist Imre Speizer was also picking the New Zealand dollar to gain ground against the European currency.
"I think it [the kiwi] might have one more push higher, early this week, and then I think we'll have a big downward correction of that," Speizer said.
He said an exchange rate of 64c to 66c was possible this week.
The kiwi's rise was not just a story of weakness in the euro, Speizer added.
"It's somewhat a story of New Zealand's economy holding its own."
But while the kiwi's strength is a vote of confidence by international investors in this country's economic prospects, it does not bode well for local firms selling their wares in Europe.
Keith Cooper, chief executive of meat exporting co-operative Silver Fern Farms, said the dollar's gains on the euro eroded returns for farmers.
"It's very unhelpful being at these levels and it will be detrimental to overall revenues," Cooper said.
And he said it was difficult for the co-operative to raise prices to compensate for the appreciation in the currency.
"The values we're achieving for all our products are at record highs and any further price increases ... could be detrimental to demand."
Manufacturers and Exporters Association chief executive John Walley said the Government had a "there's nothing we can do" attitude towards the currency, which needed to change.
"Over the past year we have seen other countries' ... central banks taking action to lower their exchange rates, whether through quantitative easing in the United States and the United Kingdom, capital controls in Canada and Brazil, or direct currency management in Switzerland and Singapore," said Walley.
The kiwi was trading at US79.35c at 5pm last night, but Jones said it could fall to US74c by March as investor sentiment about America's economic prospects improved.
The dollar had fallen away from its record against the euro to be trading at 62.73c at 5pm last night.
It was trading at 51.81p versus the British pound and A77.18c against the Australian dollar.