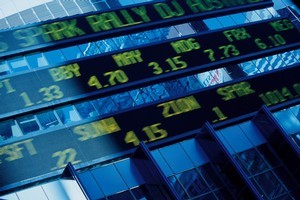 Standard & Poor's swept debt-ridden Europe with punishing credit downgrades yesterday, stripping France of its coveted AAA status and dropping Italy even lower. Germany retained its top-notch rating, but Portugal's debt was consigned to junk.
In all, S&P, which last year took away the United States' AAA rating, lowered the ratings of nine countries, complicating Europe's efforts to find a way out of a debt crisis that threatens to cause worldwide economic harm.
Austria also lost its AAA status, Italy and Spain fell two notches, and S&P cut ratings on Malta, Cyprus, Slovakia and Slovenia.
The downgrades on more than half of the countries that use the euro could drive up yields on European government debt as investors demand more compensation for holding bonds deemed to be riskier.
Higher borrowing costs would put more financial pressure on countries already contending with heavy debt burdens.
"In our view, the policy initiatives taken by European policymakers in recent weeks may be insufficient to fully address ongoing systemic stresses in the eurozone," S&P said.
Stocks fell, causing some people to call the crisis Black Friday, as downgrade rumours reached the trading floors of Europe and the United States.
The Dow Jones industrial average in New York was down 0.5 per cent. Stocks fell 0.6 per cent in Germany, 0.5 per cent in Britain and 0.1 per cent in France, but each of those markets closed before French Finance Minister Francois Baroin gave word of the country's downgrade on French television.
Earlier in the day, the euro hit its lowest level in more than a year and borrowing costs for European nations rose.
Some analysts downplayed the impact of the downgrades.
"It's going to create bad headlines for a day or two," said Jacob Funk Kirkegaard, research fellow at the Peterson Institute for International Economics. But "there's no underlying new information ... this will be quickly forgotten".
Still, the cut in the French credit rating may lead bond traders to raise borrowing costs for the financial rescue fund, said Guy LeBas, chief fixed income strategist at Janney Montgomery Scott, a financial firm.
"There's a legitimate reason to be concerned," he said. "A weaker France means a weaker bailout fund."
France's downgrade to AA+ lowers it to the level of US long-term debt. S&P had warned 15 European nations in December that they were at risk for a downgrade.
France is the second-largest contributor behind Germany to Europe's financial rescue fund. The fund still has a rating of AAA. That means that it can borrow on the bond market at low rates.
While Europe is suffering from financial woes, Australia's Foreign Affairs Minister Kevin Rudd said the global economic shift eastwards to Asia places his country ahead of fellow Western developed nations.
Rudd said at the non-profit Asia Society in New York yesterday that China's ascent to the top of the global economic ladder within a decade had implications for peace, prosperity and stability in the decade ahead for the region and the world.
"This will be the first time since the rise of the Spanish Empire 500 years ago that a non-Western power will be the dominant global economic power," he said yesterday. "And the first time since Pitt the Younger that a non-democracy will be the world's largest economy."
But China's rise did not mean a US in absolute decline as America would continue to innovate and re-invent itself despite its recent economic stupor, Rudd said.
"America, therefore, will remain a formidable economy and strategic force through to mid-century and beyond," he said.
He said the era of one nation - Rome, Great Britain and the US - maintaining peace had been underpinned by them being the dominant economic and military power.
Policymakers had the task to create a peace based on common security.
"If we manage to craft such a common future together, then not just our children but the world at large will thank us all for learning the lessons of history," said Rudd.
- AP