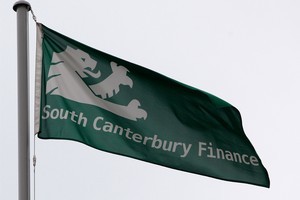 Litigation involving the biggest alleged corporate fraud in New Zealand's history is to begin in the South Island on Monday.
Serious Fraud Office charges against five people involved with Timaru-headquartered South Canterbury Finance is scheduled to start at 9am but the public might not be much wiser at the end of the day.
The case could go before the court registrar or a judge, who would likely be Judge Joanna Maze.
SCF was placed in receivership on August 31, 2010, triggering a $1.6 billion taxpayer-funded handout to thousands of investors because the company was state-backed, part of a national scheme introduced by the Labour-led Government to protect confidence in banks and the finance system when the global finance crisis hit around 2008.
This is the first time the matter has been formally called and the five may seek to have all suppression orders remain firmly in place or to have no changes made to this aspect of their case.
Those charged may not even appear, but their lawyers could appear on their behalf if necessary.
Court staff are understood to be preparing for interest from all over the country in the case, in which the defendants have the right to plead guilty at the first appearance but are extremely unlikely to do so.
Adjournments are expected to be sought and some judicial timetable set down for the matter to proceed this year, although even that could be subject to change via applications or orders.
Proceedings could take place via the filing of specific documents relating to the case, without a hearing.
The SFO's prosecutor is expected to be Nicholas Till, QC, of Christchurch.
The five defendants' lawyers are not yet known.
What is highly likely to emerge on Monday will be the details of the 21 charges, as charge sheets will be made available in the court and to the media.
The SFO has made it clear the scale of the case was huge and difficult.
"On the basis of investigations completed by the intelligence and detection team, the director determined that an investigation into the affairs of SCF may disclose serious or complex fraud," it said in a statement last month.
"An investigation under part I of the Serious Fraud Office Act was commenced on 18 October, 2010.
"The charges allege a variety of offences, including theft by a person in a special relationship, obtaining by deception, false statements by the promoter of a company and false accounting.
"The total estimated value of allegedly fraudulent transactions is about $1.7 billion."
SCF founder and chairman Allan Hubbard died after a car crash on September 2 last year.