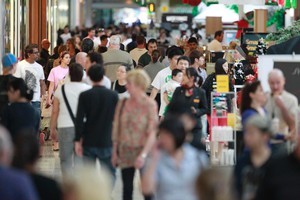 Christmas shoppers spent more last month than in the 2010 festive season and retailers say a rainy holiday period helped get punters into stores.
Paymark - which handles 75 per cent of the country's electronic transactions - processed more than $4.6 billion of spending in December.
This was up 3.4 per cent when compared to the same period in 2010.
Footwear outlets and clothing retailers had a particularly good month, up 9.2 per cent and 5.3 per cent on the previous December.
Although growth was still patchy, Paymark's chief information officer Ben Robinson said there was a "positive note" to the figures.
"The Christmas spending boom was again stronger than last year, with one major change - the peak shopping day did not fall on Christmas Eve, but on Friday the 23rd. This shows us that Kiwis definitely used the whole of the last week to prepare. Signs of more discretionary spending bode well for the future even if the trend is patchy across sectors and across regions at present," Robinson said.
"2011 was a tough year for retailers, with all kinds of local and global factors affecting business - it is encouraging to see a bit of positivity with higher discretionary spending in the latter part of the year. We hope this is a sign of better things to come in 2012."
Palmerston North experienced the country's strongest growth in December, with the value of electronic transactions up 7.7 per cent year-to-year.
On the other hand, spending in Canterbury, Marlborough and Wanganui dropped over the month by almost 1 per cent compared to the year before.
New Zealand Retailers Association chief executive John Albertson said on average spending picked up closer to Christmas after a tough start to the month.
"The first couple of weeks were a bit slow, then the last 10 days before Christmas were pretty good and Boxing Day came through really strongly as well," Albertson said.
Although spending picked up over the festive season, Albertson said the sector was fiercely competitive and stores were having to fight hard for business.
"There's a lot of good buying out there for the consumer at the moment. There's quite a lot of discounting going on.
Stores traditionally experience a slightly quieter period in the first part of January, but some sectors would get a boost when schools go back at the end of the month."
Rod Duke, managing director of Briscoe Group, which operates Briscoes, Rebel Sport and Living & Giving stores, said the group had a "very good Christmas" and saw a "pleasing increase" in sales.
While the wet weather made it difficult for Rebel Sport to sell the likes of cricket and tennis gear, it did help to get people shopping.
"If customers find it very very difficult to get the beach, they traditionally go to the stores, so on one hand it's been quite good," he said.
Executive director at Smith & Caughey's Terry Cornelius said sales were up in December across most areas and that the department store's Christmas display helped pull in customers.
"We had our Santa's Enchanted Forest and that dragged a large number of families into the store.
"I think we had something like 10,000 children go through [the Enchanted Forest] so there was a big rub off from that with toys and childrenswear," he said.
Cornelius also believed the rain over the last fortnight, rather than keeping people away, helped bolster shopper numbers.
"We think during a couple of days it may have actually been a plus in that people couldn't go to the beach so were looking for other forms of recreation," he said.
Across 2011, Paymark processed 904 million transactions, worth $45 billion, up 3.9 per cent from the previous year. The average transaction - excluding fuel and supermarket purchases - was $50.89, down 2 per cent from 2010.
PAYMARK FIGURES
* More than $4.6 billion of spending processed in December, up 3.4 per cent on the same period in 2010.
* Footwear and clothing was up 9.2 per cent and 5.3 per cent on December the year before.
* Auckland/Northland: $1.82 billion, up 5.2 per cent year-to-year.
* Wellington: $454 million, up 2.5 per cent year-to-year.
* Canterbury: $505 million, down 0.9 per cent year-to-year.