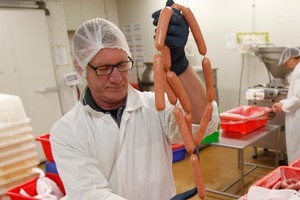 Mark Lennon, owner of Auckland food manufacturing firm Branco's Sausages, has had his second mentoring session with Stefan Lepionka, co-founder of juice-maker Charlie's.
And the highly successful businessman, who pocketed around $18 million last year when Charlie's was sold to Japanese brewer Asahi for $129.3 million, has told him that he needs to increase the prices of his products if he wants to improve his bottom line.
"To be fair, I haven't made a price increase for the last 18 months to two years," said Lennon, who bought Mt Wellington-based Branco's from a South African family in 2006.
Lennon is involved in the ASB's Business Futures Mentor Programme, launched in August, in which 10 of the bank's small business customers are receiving guidance from some of New Zealand's most well-known businesspeople, including Lepionka and 42 Below founder Geoff Ross.
He said that he had been reluctant to increase his prices over the winter months, when sales of his products - which include South African boerewors, ostrich, pork, Indian and Thai-style sausages - had slowed down.
But he said he had had discussions with his customers, including supermarket operator Foodstuffs and independent butchers, about raising prices and their reactions had been mostly positive.
"At the end of the day we might lose a couple of stores out of it, but if you don't do something about it you may not have a business."
Lennon added that margins in his business were "very thin".
He said he was also looking to employ a third staff member to take over his role on the factory floor, which would give him time to get out on the road and drum up sales.
Lennon said that the summer barbecue season in the weeks following Christmas - after consumers' leftover turkey and ham had been finished - was the busiest time of the year for Branco's.
The mentoring sessions with Lepionka were proving helpful, he said.
"It's really nice to have reaffirmation about some of the things you have been thinking about."
Lennon's next mentoring session will take place next month.
The Business Herald is following Mark Lennon as he makes his way through the ASB mentoring programme.