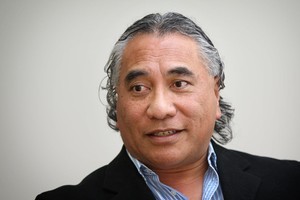 Collecting empty Coke bottles and selling them to the local dairy as a boy is what sparked one businessman's passion for entrepreneurship.
Today Ulu Aiono is a millionaire, having founded successful software technologies company Cogita in 1983. The 57-year-old has been made an Officer of the New Zealand Order of Merit for services to business.
Born in Samoa's capital, Apia, his parents and siblings travelled to New Zealand in 1960 in search of opportunity and set up home in Epsom.
That's where the entrepreneur in him was born, Aiono said.
"We lived opposite Alexandra Park racecourse. At the time, my brother and I would've been 6 and 7 years old.
"They had trotting club races on Saturday nights sometimes and so early on Sunday morning we would get up at 5 o'clock, jump the gates and collect all the Coca-Cola and Fanta bottles we could find.
"Late after church on Sunday, we'd go to the dairy and then sell them. My brother and I lived like princes because of that."
Aiono's company is an international high-technology enterprise which specialises in resource planning software for blue-chip manufacturing and distribution companies. It is the world's top selling agent for Epicor software, based in the US, and has annual sales in the tens of millions.
There are offices throughout Australia and the company also owns software assets in the United States.
As well as being a well-known face within the business sector, Aiono is a very much respected face and business leader within the Pacific Island community. He was the first person of Samoan descent to complete an MBA at Otago University and is the first Samoan to start a high-technology enterprise in New Zealand.
His company sponsors the Inspiration Award for the annual Prime Minister's Pacific Youth Awards, which was set up two years ago in a bid to encourage high achievers to continue to seek the heights.
He is the chairman of the Pacific Island Chamber of Commerce and the National Pacific Radio Trust and is a member of the Auckland Regional Economic Development Forum and the Auckland University of Technology Council. Cogita also sponsors the annual Westpac Manukau Business Excellence Awards.
Aiono said the recognition was not his alone, but one shared by those who had helped him to get to where he is today.
"I am a product of Christian parents so I am thankful to God and them. I am also indebted to my wife Margaret and family.
"Without them I would be nowhere."
ONZM
For services to business: Uluomatootua Saulaulu Aiono.