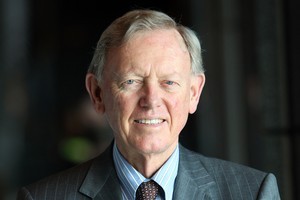 Highly influential but reclusive business leader John Todd has been knighted weeks after his retirement from the helm of the multi-faceted Todd Corporation.
Sir John, 84, has been made a Knight Companion of the New Zealand Order of Merit for services to business.
He is one of the country's top philanthropists as well as a leading patron of the arts, and chairman of his famously private family's charitable Todd Foundation.
Sir John retired on December 6 after 24 years of chairing its non-listed business empire.
He has been succeeded by professional director Geoff Ricketts from outside the bloodline of Scottish immigrant Charles Todd, who founded the family firm in 1885.
From a Central Otago fellmongery and wool-scouring plant, the business has evolved into a $2.6 billion-plus conglomerate with major energy interests as well as investments in broadcasting, telecommunication, land, retirement homes and information technology.
Its 160 or so beneficiaries are all direct descendants of Charles Todd, who was Sir John's great-grandfather.
Sir John joined the business through Todd Motors in 1948 at its former Petone car assembly plant, after studying accountancy and commerce at Victoria University.
He became managing director of the company in 1968.
His family had also in the 1930s established New Zealand's first indigenous oil supply firm, starting with reserves imported from the former Soviet Union, and went on to join Shell and BP in discovering and exploiting the Maui gas field.
Its interests have since been extended into onshore oil and gas production, and electricity generation and distribution.
The Todd Foundation has disclosed having distributed $4.8 million in grants this year, including $775,000 to community groups and other non-profit organisations trying to rebuild Christchurch.
That is from an earthquake recovery fund which was set up in June and has since grown to $2 million from donations from the Todd Corporation, members of Sir John's family and staff of their various organisations.
Sir John was unavailable yesterday to talk about his award.
But Philanthropy New Zealand chief executive Robyn Scott said his promotion in the ranks from a Companion of the New Zealand Order of Merit bestowed on him in 2009 for services to business and the community would be "incredibly well-deserved".
"Like many older philanthropists, he doesn't seek any acknowledgment for his good work - John would never be telling people stories about his philanthropy."
Scott noted that Sir John had a particular interest in the welfare of children.
The man himself told the Herald in a rare interview before "dodging all the fuss" by leaving for overseas after receiving his 2009 royal honour that he saw it as an acknowledgement of his entire clan's contribution to business, arts and philanthropy.
"I think my being recognised is as much as anything being the patriarch of the family," he said.
He said then that a conservative business model was serving the Todd Corporation well in difficult economic times, when it was important "not to get over-extended in giving the banks the opportunity of sequestering your assets."
As well as looking after the family's interests, he has served on the boards of a number of high-profile companies and the Westpac Banking Corporation's New Zealand advisory panel, as well as the Overseas Investment Commission.
He is a past president of the Wellington Manufacturers' Association and was a founding trustee of the Arts Foundation as well as a trustee of the Royal New Zealand Ballet, the Queen Elizabeth II Arts Council and Volunteer Service Abroad.
KNZM
For services to business: John Todd