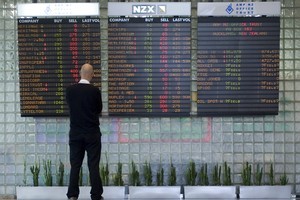 As another year of global financial market ends, the total value of shares listed on the New Zealand share market ended up little changed from where it started at the beginning of the year.
With the NZX closing early ahead of the New Year holiday weekend, the NZX50 index of leading stocks closed 0.28 percent lower than where it opened the year, although it rose 0.61 percent in trading over the course of the day to 3,266.004.
Total turnover was a little over $29 million, making it another light day in the traditionally quiet, short week between Christmas and New Year.
Over the course of the year, the NZX50 went as high as 3,577.443 on May 20, only to hit the year's low-point three months later at 3,097.11, on Aug. 9, in the midst of global gloom brought on by the US Congress's tortuous agreement to a new federal debt ceiling and a credit rating downgrade for the world's most powerful economy.
Over the course of the year, stand-out performances were recorded by two international logistics companies, Mainfreight and Freightways, which rose 23.08 percent and 15.77 percent to $9.90 and $3.68 a share respectively. Port of Tauranga shares also had a strong gain, up 30.2 percent to $9.95, as it benefits from strong commodity exports and industrial woes at its main competitor, Ports of Auckland.
However, the largest single rise for the year went to the stock exchange operator itself, NZX, whose share price rose 51.63 percent to $2.26. The chief executive over the last decade, Mark Weldon, announced his intention to resign in 2012.
Hard-hit over the year were retail stocks such as Warehouse, Hallenstein Glasson and Pumpkin Patch, while market heavyweight Fletcher Building shed 21.93 percent to end the year at $6.11. Continual setbacks to the Christchurch rebuild, caused by ongoing major aftershocks, and the soft Australian construction sector, both told against the stock this year.
Shares in Contact Energy, the largest listed energy company, lost 16.84 percent of their value over the year, closing at $5.27, although the post-demerger Telecom was up 20.8 percent, closing the year at $2.05, once shorn of its former infrastructure arm, Chorus, which listed this month and closed today at $3.12.
Its 29 percent holding in the Pike River coal mine and failure to find new oil and gas plays saw New Zealand Oil & Gas fall 20.11 percent over the year to 70 cents.
While catering the elderly saw Ryman Healthcare rise 16.1 percent to $2.70, specialist healthcare producer Fisher & Paykel Healthcare did it tough, calling 24.76 percent over the year to close today at $2.50 a share, while F&P Appliances slumped 39.2 percent to 36 cents.