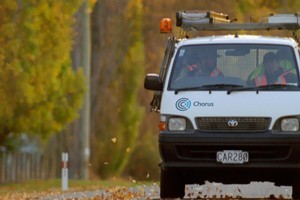 Two stocks stand out for their popularity in the 2012 brokers' picks: Ryman Healthcare and Chorus - both have been picked by five out of seven participating brokers.
The former is viewed as a growth stock while the latter is seen as a more defensive play.
Ryman's popularity isn't surprising given the kind of year it has had. With share price returns of 16.95 per cent (to Christmas Eve) it has certainly been one of the market darlings this year.
As an aged care provider it has the demographics of an ageing population on its side. It also comes with a strong management team which is highly rated by analysts.
Chief executive Simon Challies was a finalist in the Herald Business Leader of the Year and won the NZ Shareholders Association's Beacon award for corporate leadership.
Rob Mercer at Forsyth Barr notes it is a company that has strengthened its competitive advantage through the global financial crisis.
Mark Lister at Craigs Investment Partners highlights the positive demographic trend and also says "existing sites still have capacity for growth and new sites provide solid pipeline and confidence in ongoing growth of the business model".
Freshly listed as a separate entity after the Telecom split, the popularity of Chorus comes as a bit more of a surprise. It is considered the more defensive of the two stocks which the once mighty Telecom has split into. But it offers strong regular dividend returns and still comes with some upside for growth (and potential risk) around the broadband network build.
Craigs Investment's Lister says "as an infrastructure owner, we like the reliability of the cash flows generated by the company's assets ... as dust settles and the company proves itself as a separate entity it may generate further investor interest".
The next most popular stock for 2012 - picked by First NZ Capital, Forsyth Bar and Craigs - was Fletcher Building. A perennial favourite with New Zealand investors, the stock had a rough ride this year as tougher times in the Australian construction sector and the slow start to the Christchurch rebuild weighed on its share price.
It's still going to face difficult trading conditions next year but there is an argument to be made that it has been oversold and represents a good buying opportunity. Most of the earnings downgrades are just a deferral of cash flows to the time when the Christchurch rebuild is up and running.
Unfortunately the quakes on December 23 - which came after the close of the picks for next year - are unlikely to help that cause with more delays now likely before the serious business of rebuilding the Christchurch CBD can begin.
After Fletcher there are two stocks that each get a couple of picks: Mainfreight and Westpac.
Mainfreight has been a strong performer for several years. It has a strong management team under chief executive Don Braid - the Herald Business leader of the Year in 2011.
Westpac seems to be the preferred choice as an Australasian banking play although Lister at Craigs notes: "The Australian banking sector is one of the strongest in the world, provides a very attractive dividend yield of approximately 8 per cent and looks reasonably priced."
From there the most notable feature of this year's picks is just how diverse they are - 20 different companies across retail, manufacturing, technology, energy and other sectors.
It is perhaps a sign of the health of the NZX right now - albeit in the context of tough economic times - that there was room for some notable omissions. This year there are no picks for The Warehouse, Briscoe, Contact Energy or the newly listed Trade Me.
Finally we should congratulate McDouall Stuart, winners of the 2011 stock picks game. Their pick of Diligent, a software company specialising in online solutions for company directors, really came up trumps delivering total returns of 218 per cent. The team also got returns of 22.2 per cent for Ryman, allowing them to shrug off a 17 per cent hit on Fletcher Building for a total return of 49 per cent.
NEXT YEAR'S SELECTIONS
Goldman Sachs
* SkyCity
* Ryman
* Telecom
* Infratil
* Kathmandu
McDouall Stuart
* Abano
* Diligent
* Ryman
* Skellerup
* Cue Energy
Forsyth Barr
* Fletcher Building
* F&P Appliance
* Chorus
* Sky TV
* Ryman
First NZ Capital
* Fletcher Building
* Mainfreight
* Chorus
* National Property Trust
* NZ Oil & Gas
MacQuarie Securities
* Chorus
* Pumpkin Patch
* Ryman
* Mainfreight
* Transpacific Industries
Hamilton Hindin Greene
* F&P Healthcare
* Westpac
* Chorus
* Nuplex
* Tower
Craigs Investment Partners
* Chorus
* Auckland Airport
* Ryman
* Fletcher Building
* Westpac

THE FINE PRINT
Before using the Business Herald survey to choose a broker or stocks, readers should recognise that the results are skewed by some features: The figures exclude brokerage fees.
Brokers are asked to choose the securities that will give the best short-term performance. If they had been asked to choose, for example, for a five-year term, the results might be different.
The survey does not allow brokers to review choices during the year. The survey implies a one-size-fits-all approach. It takes no account of individual circumstances such as an investor's appetite for risk, requirement for income or tax circumstances. The views expressed do not constitute personalised financial advice and are not directed at any person. Finally, past performance is no guarantee of future performance.