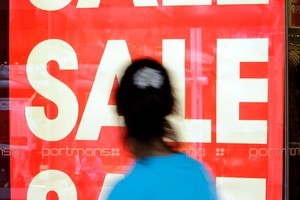 Retailers are gearing up for what could be the biggest shopping day of the year today, heavy discounts already in place before traditional Boxing Day sales.
Big names such as Farmers, Pumpkin Patch, Kathmandu, The Warehouse, Noel Leeming and Rebel Sport are discounting by up to 60 per cent.
Paymark, which processes about 75 per cent of all electronic transactions in New Zealand, said its system traditionally peaked just after midday on Christmas Eve. However, spokesman Ben Robinson said it may come today as Christmas falls on a Sunday.
Recession fears don't seem to have dented Christmas - overall spending for the month to December 20 is up $133 million on last year to just under $3 billion. Sports equipment, appliance and home building stores' takings are up 8.4 per cent, 7.6 per cent and 6.1 per cent respectively on sales last year.
Westfield said it was adding extra customer service, wrapping and parking staff for the expected rush, and centres such as St Lukes, Albany and Manukau City were closing at midnight tonight. However, Christmas Eve shopping would end at 6pm.
Farmers yesterday discounted small appliances and women's clothing by up to 50 per cent, and toys up to 25 per cent. Pumpkin Patch halved prices, while The Warehouse had sold out of a popular Ninjago Lego set and was heavily discounting perfumes.
Rebel Sport owner Rod Duke said typical Christmas items such as cricket kits, shoes and apparel were flying out the door. He expected shoppers to get most of their gifts sorted today.
"We have an expectation that Friday will just about be the last huge day."
Mitre 10's marketing general manager, Dave Elliott, said Christmas on a Sunday was a perfect run-up as many would still be working today and would use Saturday to finish their gift lists. Barbecues and power tools were selling well.
Noel Leeming Group, which owns Bond & Bond, was tracking above the Paymark result, merchandising general manager Jason Bell said. More expensive gifts such as iPads, smartphones and gaming consoles were doing well but many would be waiting for the big discounts on whiteware and TVs on Boxing Day.
Not all retailers are booming. Outdoor store Kathmandu brought forward Boxing Day-sized discounts ranging from 20 to 60 per cent yesterday. A company statement said first-half earnings would fall as Christmas sales failed to meet expectations.
PRICEY PRESENTS
Top-selling Christmas gadgets:
* iPads start at $799
* Sony eReader $229
* Smartphones start at $139 - over $1000 for iPhones
* Tivo $299
* Xbox, PlayStation 3, from $349
* Canon EOS1000 $998
* Nespresso coffee machines start at $399
* Frog shower radio $17
* Helicopters start at $59.99
* Barbie laptop $109.99
Supplied by Noel Leeming Group
FEWER VOTES FOR TURKEYS
Roast turkey and glazed ham are what you would usually expect to see on the Christmas dining table - but it seems more and more people are opting for Kiwi barbecues.
Countdown has seen a sharp increase in the sales of barbecue or "frying" meats in the lead-up to Christmas.
Spokesman Luke Schepen said this year there had been a 30 per cent increase in beef for barbecues.
Mr Schepen said the popularity of beef could be because of the late start to summer.
Sales of traditional Christmas sauces such as apple, cranberry and mint jelly typically double at this time of the year - but tomato sauce reigns supreme and is the choice for most Kiwis, Mr Schepen said.
"Watties tomato sauce is still our biggest seller by far. A surprising entrant into our top-five selling sauces this year is the Tuimato sauce - tomato sauce with a splash of beer."