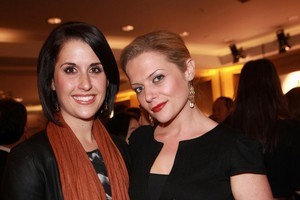 Television New Zealand is scrapping its AMP Business breakfast programme in the latest upheaval for the news department.
The Breakfast show - featuring Corin Dann and Petra Bagust - will start half an hour earlier, with business news incorporated within it and business journalist Nadine Chalmers-Ross will be providing segments, a TVNZ source said.
AMP had withdrawn from the sponsorship, but understood that TVNZ preferred to alter the format rather than actively search out a new sponsor for the business programme.
Changes are partly due to concerns about the uptake for the news oriented TV3 serious breakfast programme Firstline presented by Rachel Smalley, who is being nurtured for stardom at the channel, a source said.
Firstline has been performing well in the ratings. The early part of the extended TVNZ Breakfast will be more formal and will feature presenters sitting at desks, with Corin and Petra moving to the couch later on.
Several other issues are up in the air, with star reporter Jack Tame moved to the United states and no announcement yet on what New York correspondent Tim Wilson will be doing when he returns.
Wilson has previously been tipped as having the sort of light and quirky style that would fit Breakfast and it is understood there has been some negative reaction to Petra Bagust - who is not a journalist - handling serious interviews.
But it is highly unlikely TVNZ would have two men on breakfast. Wilson is expected to fill in as a newsreader on TVNZ 7 until it winds up in July and be used for odd job presenting roles.
Dann would seem to be the ideal candidate to replace Guyon Espiner at the Press Gallery, but he is popular with bosses and is understood to be happy in his Breakfast role.
Dann would also have the journalist firepower to replace on Q & A replacing his long time friend Guyon Espiner who has defected to TV3.
TVNZ head of newsgathering Cliff Joiner - who was an unsuccessful candidate the top job- was yesterday announced as leaving TVNZ to take up a role as producer for Marcus Lush on his Breakfast show on Radio Live.