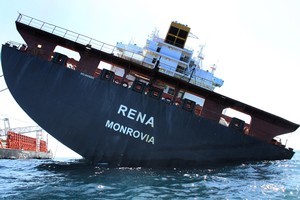 The Rena oil spill has not put off New Year's Eve revellers, with accommodation in Mount Maunganui and Tauranga booking out.
Tauranga Motel Association president Lloyd Stone said bookings for New Year's Eve week were pretty much the same as usual .
"Christmas and New Year is always busy for the motels. There's not a great deal of vacancies at this stage," he said.
Mount Maunganui Beachside Holiday Park manager Mark Hales said the busy New Year period was booked a year in advance, and this year was no exception. There was a waiting list in case of any last-minute cancellations and the park was still getting calls from people hoping to get a booking.
At Papamoa Beach Top 10 Holiday Park, there are no spaces available between the peak period of December 29 and January 5.
General manager Rebecca Crosby said there had been a few inquiries from people still hoping to book in.
At the top end of the market, the Sebel Trinity Wharf in Tauranga is also expecting to be busy on New Year's Eve, but general manager Gary Dickman said there were still rooms available.
"We do tend to fill up, especially with guests booking in for our New Year's Eve party," he said.
At the Beaumont Apartments in Mount Maunganui, Sue Steward said the New Year period had been fully booked for months: "Rena hasn't altered anything. We got a couple of cancellations the last school holidays but for this summer it's all positive."
Meanwhile, Rena salvors are confident container recovery will progress over the next few days as the weather improves.
Maritime New Zealand said 243 containers had been removed from the ship, which has been stuck on Astrolabe Reef since early October.
Dive surveys had confirmed there had been no change to the status of the vessel, despite further buckling to the hull on its starboard side over the weekend. The stranded ship remains in a fragile state.
Yesterday's fly-over noted patches of oil and a 3km-long sheen about 20m wide stretching northwest. Patches of rainbow sheen were visible for up to 7-8km off the western side of Motiti Island, about half a kilometre from the coast.
Beach cleaning continued yesterday, with Omanu and Papamoa East surf club areas targeted.
The beach grooming equipment has been bolstered by specialist gear from the United States and a self-propelled beach cleaner donated to the clean-up effort by Focus Paihia Community Trust.
Three more penguins were released at Moturiki at Mount Maunganui yesterday morning, leaving 40 birds still in captivity.
For more articles from this region, go to Bay of Plenty Times