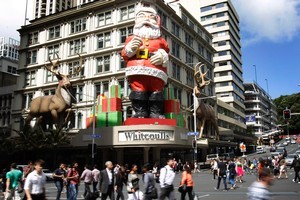 The sun came out at last and so did the shoppers yesterday - but somebody has forgotten to tell Queen St it is Christmas. Apart from the big Santa on his usual perch at the Victoria St intersection, and some pale red banners on lamp posts, the city's premier street is unadorned. No bunting hanging from the buildings or strung across the street, no tree or star or anything out of the ordinary, nothing of Christmas in most shop windows. Only Smith and Caughey's, as always, has made an effort.
It is a far cry from London and other great cities where the sights and sounds of Christmas are everywhere at this time of year. Queen St's Christmas decoration has been uninspired for many years but it seems particularly disappointing this year. Perhaps the Rugby World Cup has raised our expectations. Perhaps the effort and expense that went into that event left nothing in the reserves of retailers and the Auckland Council for some Christmas spirit.
But suburban centres and shopping malls are not as dull, nor are High St, Federal St and Durham Lane in the city centre. Shops generally have had another lean year but Christmas spending is already up on 2010, according to the Retailers Association. Electronic cash transfers for the first half of December were 4.4 per cent higher than the same period last year. With Christmas falling on a Sunday and shops open until Saturday night, this week promises to be a lucrative one. Perhaps there is still time for Queen St to look like the "golden mile" again.
Its dismal effort so far is surprising because the former Auckland City Council invested millions in pedestrian improvements and replanting with trees that are now looking good. It is all the more surprising that the now united Auckland Council has not made something happen there for Christmas. The "Super City" is intent on reviving the centre with expensive commuter rail investments and attractive waterfront development.
It would be a good idea if business organisations such as Heart of the City did not wait for that train to arrive but set about making Queen St at Christmas an attraction for families from all parts of Auckland and beyond. People never lose interest in Christmas lighting displays. Look at the numbers visiting Franklin Rd year after year. The lengths that some households go to to express the fun and joy of the season is remarkable. They put some of our commercial centres to shame.
Not all central city commercial centres are in the shade. Parnell Rd has an impressive Christmas tree, the Viaduct's big illuminated cone graces the waterfront. But Queen St has the heritage and should not meekly surrender its pre-eminence to waterfront developments.
Perhaps if Queens Wharf had been able to maintain the attraction it gained during the World Cup, Queen St would be better dressed for Christmas. But Queens Wharf looks like a wasteland again. Shed 10 is to be converted to a cruise ship terminal, the Cloud waits for another use. Post-cup lethargy seems to have drifted up the street like a summer fog.
Other parts of greater Auckland are providing plenty of Christmas attractions. The zoo is offering Christmas-themed encounters with animals and keepers, Howick Village has Santa's Snow Cave, Remuera a Santa Grotto, Mairangi Bay a display of Christmas trees decorated by community groups and local businesses. But the street that carries the mana of the Queen City has only faithful Smith and Caughey's kinetic window displays to make it worth bringing the children into town.
Business cannot have been so bad this year that more retailers could not spare something to express their pride in their prime location and the spirit of the season. Come on, Queen St.