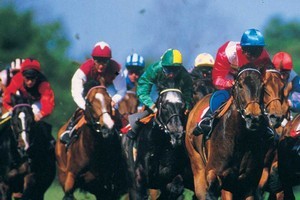 Jockeys throughout New Zealand will today begin unprecedented industrial action in search of a pay increase.
The first step is a ban on media interviews, the second involves jockeys delaying the main race of the day by 10 minutes at specified race meetings on one of the biggest days of the year - January 1 - and the third tier of action will be a total ban on riding.
Meetings affected on New Year's Day are Ellerslie, Hastings and Waikouaiti. The Ellerslie race facing disruption will be the $200,000 Blandford Lodge Railway.
New Zealand's jockeys are upset that New Zealand Thoroughbred Racing is not taking their pay increase requests seriously. They are asking for a $10 increase on their $115 a ride.
Spokesman Hayden Tinsley, president of the Central Districts Jockeys Association, said: "We used to get a bi-annual $10 increase. A couple of years ago we were told things had got tougher and we agreed to waive that increase.
"In March this year we made our usual application for a $30 increase. We didn't get a reply until two months ago offering us $3.
He took a copy of that letter to many race meetings with the options of accepting it, turning down the offer and talking, or striking.
"I was blown away that the vast majority voted to strike," he said.
At the recent Ready to Run horse sale at Karaka, Tinsley and fellow jockeys Michael Coleman, Leith Innes and Reese Jones met NZTR chief executive Greg Purcell, but little was resolved.
Tinsley said Purcell asked to attend the subsequent jockeys' annual meeting. Jockeys had a meeting before that happened and nine out of 10 declared for a $30 increase or a strike.
"I told them they were being unreasonable and the way to go was for a $5 increase on January 1 and a further $5 next August 1.
"Greg asked if we'd accept $4 and we countered with the $10. I understand he couldn't agree to that without the approval of his board and nothing was agreed."
Tinsley said jockeys had advised stewards of their intentions.
"I have told them that - provided there are no surprises to the industry - we would be inclined not to issue charges," said chief steward Cameron George.
"But if things are different to the way they've been advised the matter will be before stewards for consideration."
Attempts to contact Purcell last night were unsuccessful.